Visionaries conference 2015
5 and 6 November 2015
Venue: Birmingham City University - Book here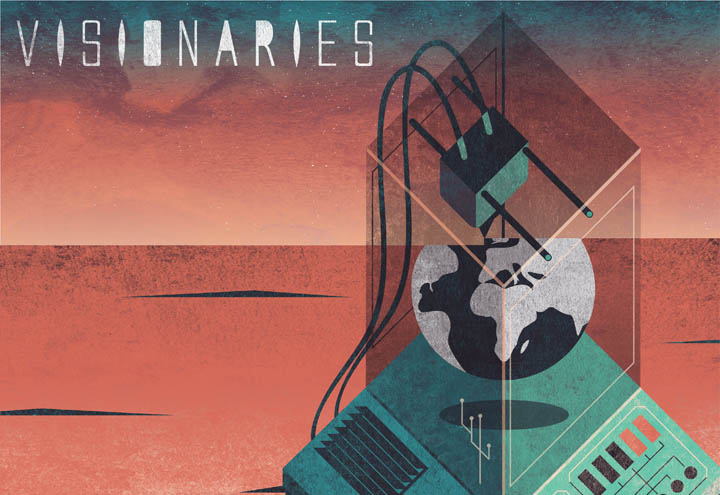 This two day VaroomLab/Birmingham City University symposium in November will be held in Birmingham, with talks presented by practitioners and academics on the illustrated map as a mode of communication, tracing the link between visionary J.G. Ballard and the cultural and virtual fabric of 2015, drawing and the digital networks of the contemporary urban landscape, revisiting the vision of the original Association of Illustrators committee, and imagining an alternative future for arts education. A film on the manifestations of vision in contemporary illustration practice will also be presented.
This event will investigate the way visionary approaches are able to expand the way we perceive the world, and also how influences from the past continue to resonate today. Illustrators, students and academics are all welcome.
Speakers include Matthew Richardson, Gareth Proskourine-Barnett, Richard Miles, Andrew Kulman, Rachel Gannon, Darryl Clifton and Andy Davies.
Petcha Kutcha presentations from Alice Moloney, Christian Lloyd, Jo Berry, Jo Hassel, Chloe Regan and Aiden Winterburn.
Guest keynote speakers are Graham Elliot and Paul Slater.
Presentations will include the following:
Myths of the near Future: Ballard, Crusoe and Google
Field Notes From The Future
Illustration; Education; Revolution
40 Years On: revisiting the vision of the original Association of Illustrators committee
Visualising Spaces: The Illustrated Map as a mode of communicating Fact, Fiction and Feeling
 
Plus Petcha Kutcha presentations on a variety of topics:
'The in-betweener' – Jo Berry
Performing in a do-It-yourself nudie suit – Christian Lloyd
Off her hostess-trolley: Telling it a different way – Jo Hassal
A new breed: How should we champion the mavericks and pioneers of the illustration industry? – Alice Moloney
Illustrator as Detective: Discovery through Drawing' – Chloe Regan
Self-Reflexivity and Contemporary Illustrated Children's Books – Aiden Winterburn
More details on content here
£35 Students  /  £75 Standard Ticket  /  £50 VaroomLab Members (Limited availability) Book here
Illustration by Josh Patterson