Varoom 36 – Jean Phillipe Delhomme
Profile: Jean Phillipe Delhomme on…
Since the 1980s, the work of French illustrator, Jean-Philippe Delhomme has explored with visual wit and elegance the worlds of fashion and culture. In Varoom 36 Delhomme talks to Varoom editor John O'Reilly about the demise of blogs, taking on photography and how Hockney liberated his use of colour. 
The Unknown Hipster
With its neat strapline "information without the invitations", sardonic wit and a cast of characters from art, fashion and street life, The Unknown Hipster harnessed the creative forces flowing through Delhomme's work for the past 30 years. His non-fiction narratives are a transitory sociology of modern life, a version of Baudelaire's famously celebrated flâneur. Executed in a line and contours shaped with psychological and cultural meaning, the appeal of Delhomme's imagery is its insight into fashion's ephemerality, its passion for temporary form.
Delhomme stopped doing The Unknown Hipster in 2013. "Maybe it was because of Instagram or something," he says, which has over 1200 posts and 22K followers on the social media platform. "That is the danger of Instagram, sucking out the energy or the patience to do things in the long term. The last thing with this kind of idea was in 2015 – I did a series for Zeit magazine, the German newspaper."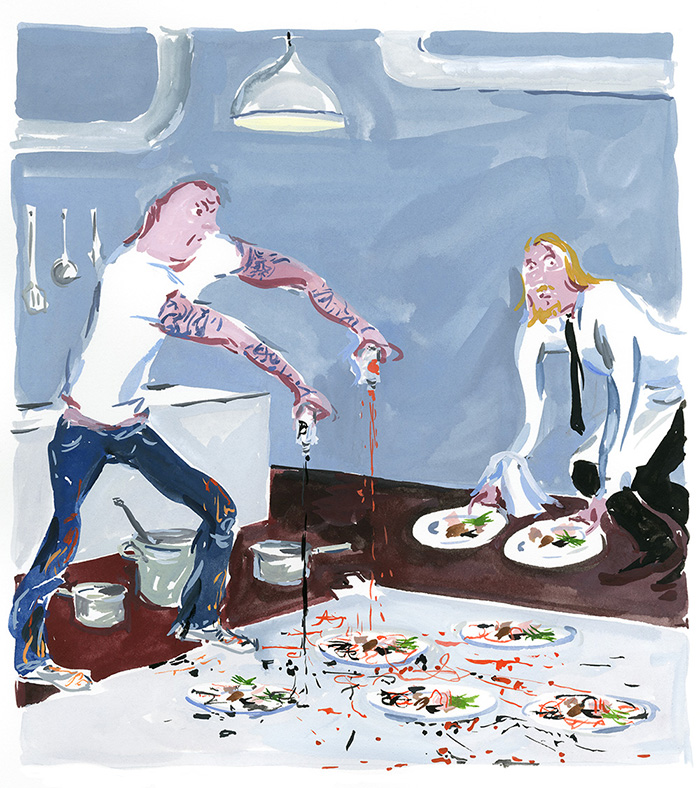 Taking the role of the photographer
Delhomme is highly attuned to how media and technology codes and constructs our perception of things. "I often think when doing a drawing, of doing a parody of a photograph," he says, "the way people are standing in the drawing, or the way I frame the drawing and the things I put in the background. I always think of it as an imaginary photograph. Everybody sees photography as realistic. I like to play with that by imitating or parodying the photography. I also thought at the time I wanted to gain the same kind of legacy or legitimacy as that of the photographer. I was trying to be taken as seriously as a photographer would be!"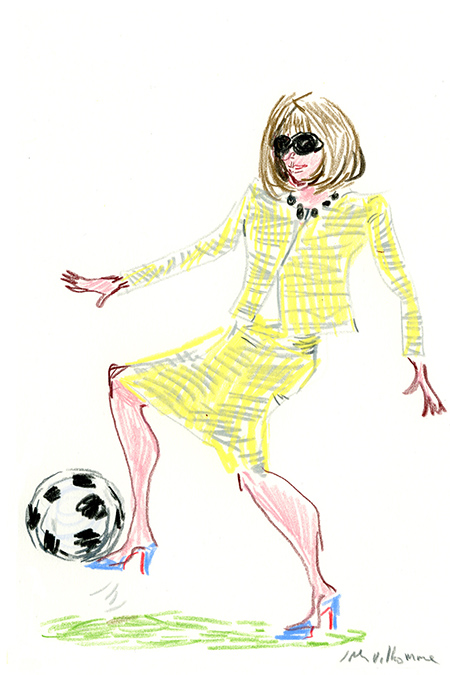 Fashion and fake polaroids
Delhomme continued to play with the form and cultural meaning of photography in his work for French Glamour. Unlike the highly commercial US version, French Glamour says Delhomme, "was half way between a sharp fashion magazine and Vogue." It was published by French Vogue and ran from 1988-1995. He had a regular spread called Polaroids de Jeune Filles, a set of images exploring what we might call the analogue 'selfie'. Delhomme's work becomes increasingly about our cultural performances of self, the narration of identity in modern life.
"I was doing 'fake Polaroids'. I was painting for hours," says Delhomme. "It was like two days of Instagram in a way. People were taking Polaroids all the time, I was doing eight illustrations of Polaroids on young women and trendy people, I was writing short stories below the Polaroids, it was like a sociological or ironic take for the readers."
To read the full feature purchase Varoom 36 here