VaroomLab Journal Issue four
ISSN 2052-1820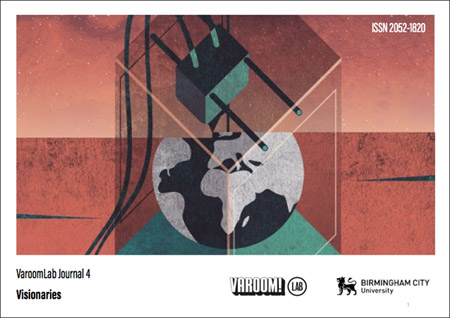 Issue Four contains papers submitted and peer reviewed for the Visionaries call for papers, investigating the way visionary approaches are able to expand the way we perceive the world, and also how influences from the past continue to resonate today
Including papers on the illustrated map as a mode of communication, tracing the link between visionary J.G. Ballard and the cultural and virtual fabric of 2015, drawing and the digital networks of the contemporary urban landscape, and imagining an alternative future for arts education. A film on the manifestations of vision in contemporary illustration practice is also included.
Visionaries was held in 2015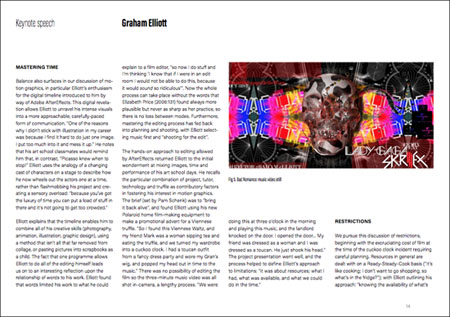 Contents:
Keynote Speakers
Paul Slater
Graham Elliot interviewed by Stephanie Black

Peer Reviewed Papers
Matthew Richardson: Myths of the near Future: Ballard, Crusoe and Google

Richard Hudson-Miles: Illustration; Education; Revolution

Andy Davies: Visualising Spaces: The Illustrated Map as a mode of communicating Fact, Fiction and Feeling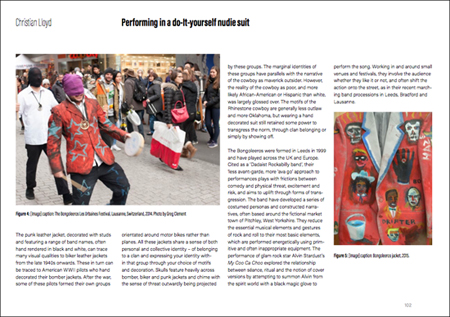 Presented Papers
Gareth Proskourine-Barnett: Paradise Lost: Documenting Birmingham's Central Library

Rachel Gannon and Darryl Clifton: Immaterial Boundary (Film)
Chloe Regan: Illustrator as Detective: Discovery through Drawing
Jo Berry: 'The in-betweener'
Christian Lloyd: Performing in a do-It-yourself nudie suit
Jo Hassel: Off her hostess-trolley: Telling it a different way
Alice Moloney: A new breed: How should we champion the mavericks and pioneers of the illustration industry?
Aidan Winterburn: Self-Reflexivity and Contemporary Illustrated Children's Books
Abstracts of peer reviewed papers:
Myths of the near Future: Ballard, Crusoe and Google

Matthew Richardson
Keywords: J.G. Ballard, future-past, mapping time, mapping space, non-spaces,
psychogeography, myth, technology, google, unreliable narrative
J.G. Ballard (1930-2009) was a visionary; his writing has a strange prescience, that seems (impossibly) to remain prophetic of the future as he describes a kind of 'fabulation' of the present. Ballard's dystopian fiction shifts to fact, forecasting global warming, urban dereliction, decadence and the psychological effects of technology, society and (mis) communication.
My practice exploits found images and framing devices to inhabit the slippages between fact & fiction, where certainty drifts towards myth. This presentation will consider Ballard's narration of space and time (especially in relation to his condensed novels of the 1970s). I will trace a link between written word and created image to illustrate how Ballardian prophesies continue to return through the cultural and virtual fabric of 2015. These aspects will be explored and described through work in progress of a project titled 'Am I the Island', where we travel (via Google Streetview) through the physical and metaphoric spaces described in J.G. Ballard's 'Concrete Island' (1973) – a re-casting of the Robin Crusoe myth.
The protagonist crashes and is marooned in no-man's land, between the intersections of dual carriageways and motorways, just off the A40 in London, trapped in a literal and symbolic non-space of the urban landscape. From the 'future' perspective of 2015, the glitches and mis-connected spaces in the 'Streetview experience' provide an opportunity (beyond metaphor) for a Ballardian re-enactment of isolation, expectation and dashed hope, ultimately frustrating the chance of mapping an escape.
'Am I the Island' moves across narrative forms investigating the interplay between image, sound and text, with the work attempting to exist somewhere between a book, a virtual experience, a film, a place or a memory.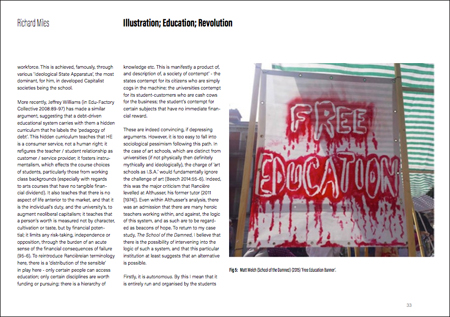 Illustration; Education; Revolution.
Richard Hudson-Miles
Recent, ideologically driven, coalition policy, specifically the Browne Review (2010), has resulted in the near complete removal of state funding from arts, humanities and social sciences courses in UK Higher Education. In this refigured HE landscape, the burden of financing education has been placed squarely on the shoulders of the individual, who is now encouraged to view their education as a form of human capital investment. Art schools could now be figured as disciplinary institutions (Foucault, 1975), or Ideological State Apparatus (Althusser, 1970), reproducing neoliberalism via what Jeffrey Williams (2009) has described as a 'Pedagogy of Debt'.
Rather than lamenting a mythic model of art schools past, utopian radicals are already attempting to imagine an alternative future for arts education beyond commodity exchange and the cash-nexus. This paper proposes one such visionary project, 'The School of the Damned' in London, not just as a critique of the current trajectory of the neoliberal art school, but also as a proposal for autonomous, self organized, education that could, and should, be taken on board by the illustration community, who are often accused, perhaps unfairly, of disciplinary 'navel gazing' (Zeegen, 2012), inside and outside of the academy.
'The School of the Damned' is a one-year course, autonomously organised and run by its students, equivalent in structure and rigour to an accredited MA. There are no fees charged for study, and tuition is organized through a form of gift economy, where an ever-expanding network of artists, academics and activists contribute to the culture of the course in a system of educational reciprocity explicitly critical of the commodification of education and capitalist societal relations themselves.
This paper will be illustrated with visual material produced by students of 'The School of the Damned' and LCA.
Keywords: ART, AUTONOMY, BROWNE, COMMODIFICATION, DEBT, EDUCATION, EXCHANGE, GIFT, IDEOLOGY, ILLUSTRATION, LABOUR, NEOLIBERALISM, PEDAGOGY, POLITICS.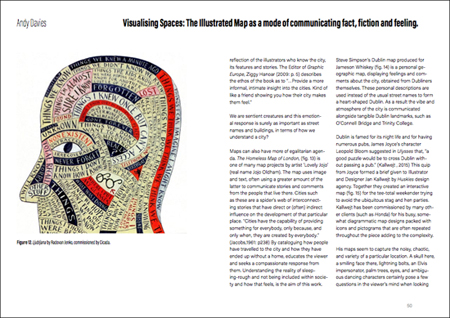 Visualising Spaces: The Illustrated Map as a mode of communicating Fact, Fiction and Feeling
Andy Davies
Communicating thoughts, facts and narratives through visual devices such as allegory or symbolism was fundamental to early map making and still is to contemporary illustration. Drawing was employed then as a way of describing historic narratives (fact and folklore) through the convenience of a drawn symbol or character. Ignorance or lack of knowledge of the collective audience and the illustrator allowed a degree of interpretation of information. The map creators were visionaries, depicting known discoveries and anticipating what existed beyond the agreed boundaries. As we now have photographic and virtual reality maps at our disposal, how can illustration develop the language of what a map is and can be? How can we break the rules of map design and yet still communicate the idea of a sense of place with the aim to inform, excite and/or educate the 'traveller'?
As Illustrators we need to question the purpose of creating a 'map': what do we want to communicate and is representational image making the only way to present information of a location? Is creating a more personal interpretation a form of cartouche, reminiscent of elements within the Hereford Mappa Mundi and maps of Blaeu, and can this improve/hinder the communicative aspect of the map? Looking at a variety of historical and contemporary illustrated maps and artists (such as Grayson Perry), who track their journeys through drawing, both conventional journeys and emotional, I will aim to prove that the illustrated map is not mere decoration but is a visual language providing an allegorical response to tangible places and personal feelings.