VaroomLab Journal issue three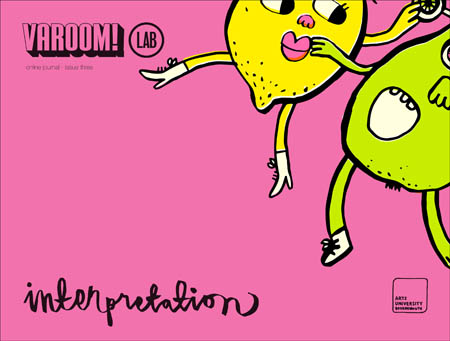 Download Issue Three: VaroomLab Journal Issue 3 Interpretation
VaroomLab Journal issue three Interpretation
Issue Three contains papers submitted and peer reviewed for the Interpretation call for papers, and explores ways in which illustrators interpret, re-interpret and misinterpret information through illustration practice.
Subjects include gender representation in illustration, creating 'artefacts' to illustrate The Prisoner of Zenda, interpretations of Error, an exploration of how visual storytelling is vital in how we engage with the world and the role of exchange between artist and scientist in natural history illustration.
ISSN 2052-1820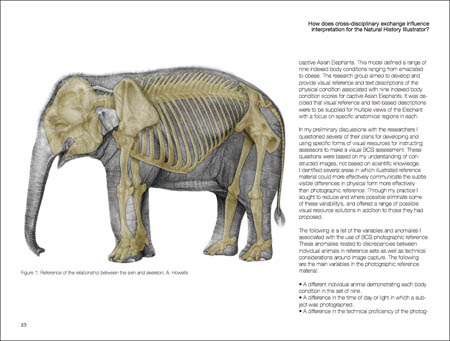 Contents:
Keynote Speakers
Marcus Oakley
James Jarvis
Cyriak
Peer Reviewed Papers
Dr Andrew Howells How does cross-disciplinary exchange influence interpretation for the Natural History Illustrator?
Chris Campe Girls Go First? Negotiating Gender Representation in Contemporary Il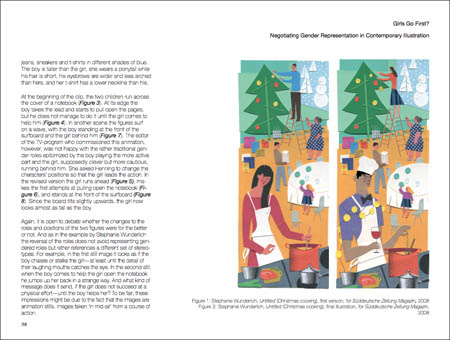 lustration
Joel Lardner & Paul Roberts The interpretation of error: Glitch, craft, and illustration
Thomas Barwick She's Lost Control

Presented Papers
Andrew Kulman Errordite [sic]: seeing is not believing
Mireille Fauchon Re-imagining a re-imagined Europe: Illustrating The Prisoner of Zender

Gary Embury The Topolski Studio Residency Programme 2013

Paul Burgess Make Room For Error

Abstracts of peer reviewed papers:

Dr Andrew Howells
How does cross-disciplinary exchange influence interpretation for the Natural History Illustrator?
Keywords: Natural History Illustration, Scientific Illustration, Medical Illustration, Illustration practice, Collaborative research, creativity, Art and science collaboration
As a Natural History Illustrator (NHI) my role through practice is to translate natural world subjects, themes or events into static and/or time-based representational imagery. The role is historically founded, and has its roots in the dissemination of knowledge for the sciences. Interpretation for the NHI involves collaboration with the sciences, extended periods of observational fieldwork and a skills-based studio practice.
This practice is not defined by the use of specific technique, media or materials, rather by a working methodology that requires significant investigation of a subject before its depiction. The process of observational fieldwork and collaboration underpin this methodology and are critical to making informed decisions and accurate representations. Ultimately the interpretation takes place in the studio when contextual research, knowledge gained through collaborative consultation, and critical observations are combined with a technical skill-base to develop imagery.
The interpretation of the literal as accurate illustrated representational imagery may seem straight forward, or even be perceived as redundant in the age of digital imaging technology, but it is through collaboration that the illustrator's visual mind combined with their tacit practice-based knowledge that complex processes, structures and forms can be represented in ways that effectively communicates specific content or narrative. This type of interpretation cannot be made by a piece of imaging technology that operates within the confines of a pre-programed scope of outcomes and visual interpretations.
With an emphasis on accuracy and communication, it is the role of exchange between the artist and scientist in collaboration that enables resulting representations to effectively serve as credible reference and resource material for the sciences. Interpretation for NHI is inherently unique to each practitioner but ultimately informed through an applied methodology in context of the known function and application for required illustrations.
Chris Campe
Girls go First?
Negotiating Gender Representation in Contemporary Illustration
Keywords: Visual representation, gender, identity, visual normativity, social responsibility
Though commissioned to visualize a given content, illustrators make plenty of autonomous decisions about what to show in an image and how to show it, based on their interpretation of a client's brief. In fact, the original and creative interpretation of the brief is usually a central part of the work.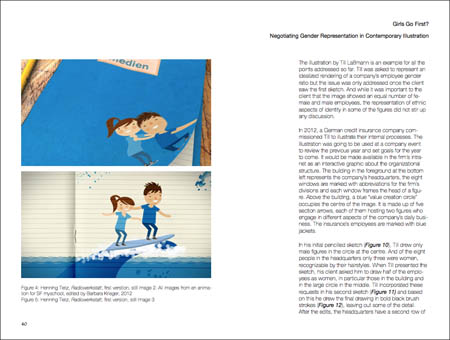 This interpretation entails countless more or less conscious decisions: What do the characters look like? What hair color do they have? Is the mother as tall as the father? A little shorter? Or taller? When it comes to how men and women are depicted, clients regularly ask illustrators for revisions. But while a client may ask for some changes to the characters' gender representation, other aspects go unchallenged from the first sketch to the final draft. So even though illustrators create imagesaccording to their clients demands, they do have some agency in representing one worldview rather than another.
The decisions illustrators make during their creative process may seem unimportant, but they bring up larger issues of representation, stereotyping and normalization: Who is in the image? What do they look like? And what do they do? However, a consideration of these larger issues in regard to the practice of contemporary illustrators is still absent from literature. So with the example of gender representation, my paper will begin to look at the agency of the illustrator and the relationship between interpretation and representation.
Using real life examples of early sketches and final illustrations, I analyze the decisions illustrators make about the visual representation of gender. By relating the practical conditions of making visual representations and the experiences of professional illustrators to theories of representation, gender and visibility, I examine how what I call "visual normativity" plays out to work towards either more traditional or more progressive representations of gender.
Joel Lardner and Paul Roberts
The interpretation of error: Glitch, craft, and illustration
This paper will address the contemporary and simultaneous rise of glitch art alongside the contemporary turn to craft within the illustrative field. Starting from an analysis of Menkman's 2011 The Glitch Moment(um), it seeks to understand the use of glitches and errors within the illustrators visual vocabulary, through aesthetic and symbolic interpretation of the glitch moment. Drawing upon the concept of the 'glitch-like' as a frequent description of the illustrator's relationship to the error, it argues that the professional illustrator is frequently constrained in their use of pure glitches within their working process due to a number of factors; and instead utilises the error initially through experimental appropriation, and then through normalisation and finally incorporation into the toolbox of the artist. However the paper also recognises the increasing prevalence and (literal) encoding of glitch-like readymades within modern software and associated artistic tools.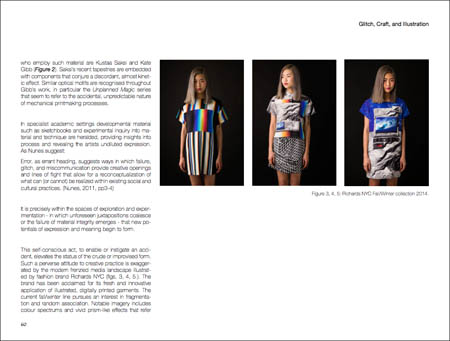 This process is considered through the lens of craft and craftsmanship, as outlined by contemporary thinking put forward and developed by writers such as Sennett, Frayling, and the collected works presented by Adamson. The paper proposes that the digital glitch in contemporary illustration exists as an attempt to encode and render the materiality of the digital process and digital product visible, in much the same way that the rise of traditional craft and imperfection in other areas of illustration practice seek to make visible evidence of the artist's hand and the materiality of working processes. The paper seeks to address the inherent contradiction that exists between the notion of craftsmanship and error, and suggests that disruption of the flow of work offers a valuable intervention that enables us to evaluate and re-interpret practices, both as maker, and reader of visual texts.
Thomas Barwick
She's Lost Control
Q: What new modes of automatic interpretation are being encountered by image makers through the misuse of image software and how does this impact on non-digital aspects of a 'tradigital' illustration practice?
The interface between image-maker and software is an established process, where illustrators create from scratch or complete their images with a sense of control and mastery. This paper will explore digital processes that release control from the image maker, allowing computer code and algorithmic calculation to take over a percentage of the process, by misusing software tools, exploiting glitches and hacking into code.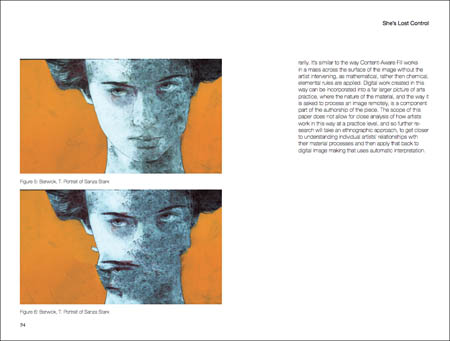 Connecting these practices with early 20th Century notions focus on 'Truth to Materials', the idea that materials give back as much as we give to them, and how in the modernist sense when the artist pulls back the wizards curtain and loses control, they are offering a truth that goes beyond the initial illusory qualities of digital arts infancy, to present images that are REAL and knowing.
A survey of practice in this field will establish diversity of practice and illustrate the raw savage qualities of the form, connecting them to the concepts of authorship and artistry that they call into question .
In Sept 2011 researching with fellow illustrator Robert Ramsden, I discovered a way to misuse an aspect of Adobe Photoshop CS 6.0 to alter my images, in ways that were unpredictable and thought provoking. The computer program was reinterpreting my work in a completely unexpected way, that shed new light on my practice. I would like to use the symposium to demonstrate this process in real time to a live audience.
I will reflect on the ways that a logical set of algorithmic rules has directly influenced my approach to drawing. And consider the implications of this type of strange creative partnership. What is this feedback loop between artist and machine code, a relationship, a dialogue, a marriage of convenience, an induced convulsion? Possibly none of these things, my aim will be to open that debate with my paper and use it to provoke debate.
Presentations:
Professor Andrew Kulman
Errordite [sic]: seeing is not believing
" …I'm out of step.'' Philip K Dick
A hurriedly delivered text message, sent without due consideration for grammar/spelling and intervened by insistent predictive text often leads to bizarre conflated words and sentences…this can lead to amusement, annoyance and embarrassment. However it does not seem a world away from Breton and automatic writing where nonsense and irrationality become desired alternatives to conventional communication.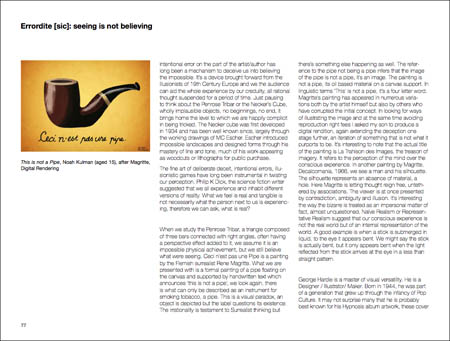 My proposed presentation seeks to examine visual communicators who deliberately set out to 'tamper' with our sense of the real, they purport to serve us alternative visions of our universe. The most familiar expressions are the worlds depicted on the covers of Science Fiction novels but also we can see how graphic artists such as Guy Bilout, James Marsh, Pierre le Tan and George Hardie are able to twist around reality to present a quite believable alternative proposition.
I would like to posit that audiences are prepared to suspend belief and rationality and invest in a new understanding and arrangement of what they see before them. The world of communication today has opened up possibilities for error to become an accepted norm, my paper will present the audience with a set of case studies to question how we pre judge what we see before us, it will involve some misleading examples but I will seek to convince the viewer/listener that what they are seeing is in fact intentional. I will cite Philip K Dick and Raymond Roussel who presented alternative worlds and questioned our perceptions of reality.
I hope to leave the listener wondering how we might be able to incorporate the unintended 'error' of what we see before us into our accepted understanding of communication and to find a fitting place for visual mistakes in everyday situations.
Mireille Fauchon
Re-imagining a re-imagined Europe: Illustrating The Prisoner of Zender
In 2009 Four Corners Books announced a call for submissions for the next edition within their acclaimed Familiars series. The Prisoner of Zenda, written by Anthony Hope, first published in 1894 is an archetypal squash buckler of the ilk that has now faded from literary fashion. The novel, once a childhood classic and even adapted into a glorious Technicolor film by M.G.M, came with no shortage of aesthetic baggage. I jumped at the chance to propose how and why this forgotten gem should be illustrated.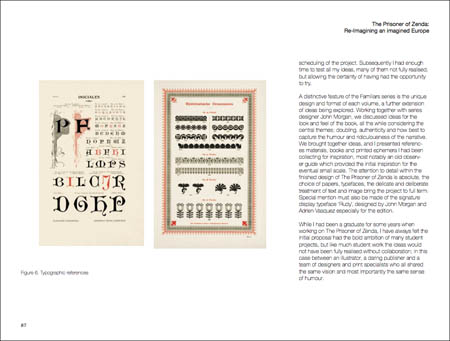 The plot ultimately concerns a charming but idle British aristo who when travelling in Europe finds himself to be the exact doppelgänger of the royal heir of the fictional country he happens to be visiting. A kidnapping plot leaves our protagonist no other choice than to take the place of the absent monarch from which ensues much melodrama and hi-jinx. The narrative is vivid but the backdrop remains a vague sketch drawing on cliques and generalisations of central Europe as perceived at that time.
In 2011 Prisoner of Zenda was published as the 7th book in the Familiars Series. Exploring the ideas of misinterpretation and the blurring of fiction and reality, the book is presented not as a novel but as an informative guide of sorts; the imagery serving to illustrate the fictitious setting of the novel, Ruritania. Characters, narrative threads, descriptions of place and social structures are represented indirectly through a series of facsimile objects and emblems of national and cultural identity. It is fully intentional that an unsuspecting reader may partake in the fiction having been lead to misinterpret the illustrations as real 'artefacts' of a lost nation.
Paul Burgess
Make Room For Error
This paper seeks to demonstrate the use of error and the mistake as strategies for the creative process within design for music, sound and performance.
From the personal interpretation of the initial brief, then allowing for experimentation, subversion and sometimes a complete disregard for rough visuals, the preference for the beauty of error and the excitement of the gratuitous mistake takes over. Whilst referencing Punk and Acid House imagery to the lo-fi glitch-video cassette generation of now, error is all.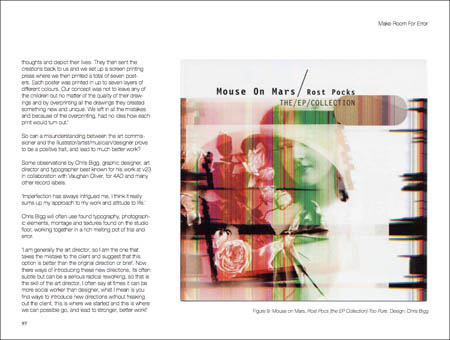 This paper will include interactions with visual image makers: Chris Bigg, Mordant Music, Martin Andersen, Michelle Thompson, Akihiko Taniguchi and Mark Prendergast who all embrace spontaneity and error within their illustration and sound based work.
The paper will explore the question: What does error bring to the interpretation of the commission. Can misunderstanding between the art director and illustrator prove to be a positive trait? Can the mistake bring the midas touch to the message?
Gary Embury
The Topolski Studio Residency Programme 2013
During 2013 Gary Embury, editor of Reportager, and Andrea Marie of the Topolski Studio hosted a pilot four-month residency reportage drawing programme for six young artists not in employment, education or training. The Residency offered the opportunity to work together, making documentary and reportage drawing from a wide range of locations and subjects, as diverse as the Fracking protests at Balcombe, London Markets, Heygate Estate, Consumerism at Oxford Circus, the Royal courts of Justice and Parliament amongst others.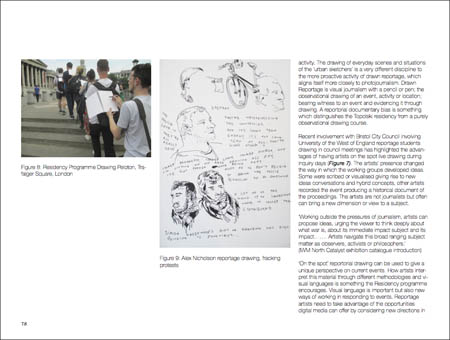 Drawing, and particularly reportage drawing, has a growing profile. There has been a return to drawing in higher education and a growing number of drawing organisations and publications have emerged as a new appreciation of drawing as an art form develops.
Feliks Topolski was one of the foremost draughtsmen of his day, it is clear that his legacy has contributed to a resurgence in reportage drawing, particularly as re-imagined and revitalised by a new generation of young artists engaging with contemporary topics.
The residents produced a 'Chronicle', a broadsheet of their drawings chronicling contemporary issues of the twenty-first century just as Topolski did of the twentieth through his bi-monthly Chronicle.
The Residents also gained an apprenticeship in the life of the new Topolski art and print studio. They received initial training in using the printing press and monthly master classes from print and drawing professionals such as Anne Howeson, Rachel Gannon and Julia Midgley. The group were professionally facilitated to design and deliver workshops to the public during their Residency and hosted two exhibitions, in London and Bristol.
The unique perspective that reportage drawing offers on contemporary events is also a way to engage the community with what is going on in their locality – not only by becoming consumers but also, through involvement in workshops, as citizen journalists or chroniclers themselves. Recent work with Bristol City Council involving students live drawing in council has highlighted the advantages of having artists present during inquiry days. The artists' presence changed the way in which the working groups developed ideas. Some were visualised giving rise to new ideas. Other artists recorded the event producing a historical document of the proceedings.
This presentation will help to show different approaches artists take to record the same location and subject, and how documentary drawing and reportage can be used by artists to clarify and focus on issues through journalistic enquiry, the use of selection, editing on the spot, and area of focus including conversations evidenced through the use of annotated text to anchor meaning and add content.
Is this the beginning of a new era of drawn visual journalism, or, considering the ubiquity of mobile phones and cameras, just an offshoot or parallel strand of citizen journalism, and if so, what are our responsibilities as producers and consumers of this material.
A Documentary film is in production with footage from several locations, interviews and archive footage including images and drawings by Felik Topolski. This will be available by June 2014. Sections of The film will also be used as part of the presentation.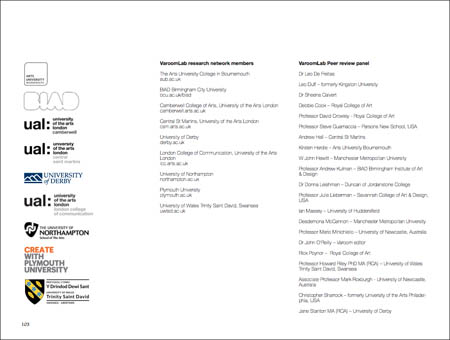 Design by Jenni Saarenkyla – Arts University Bournemouth
See a review of the Interpretation symposium here