Interpretation: Joel Lardner & Paul Roberts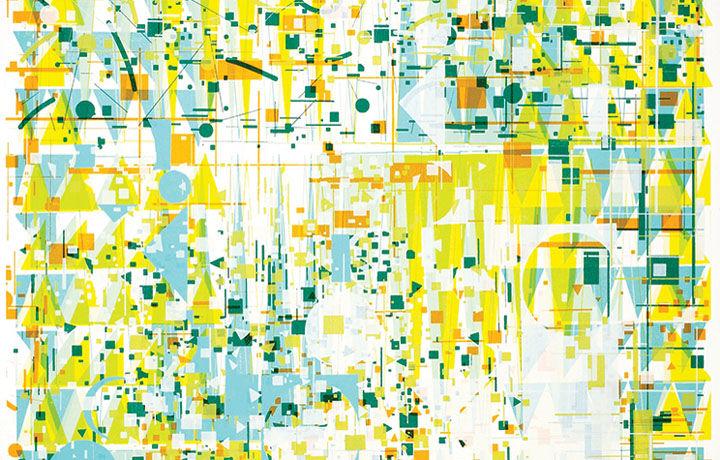 Speaking under the Error strand of the Interpretation illustration conference 18-19 September at AUB, illustrators and educators, Joel Lardner and Paul Roberts answer a couple of questions about illustration, the event and what they'll be doing.   Tell us a bit about your presentation
Our presentation sets out to examine glitch, and the glitch-like, making reference to the resurgence of craft within contemporary culture.
It makes comparisons between these seemingly opposed practices and looks to locate glitchcraft within Illustration.
The Krystal World by Joel Lardner
What's the best element of attending an illustration conference?
Sharing new ideas with new friends.
Fall/Winter Collection by RICHARDS NYC
Is illustration research important?
Yes, because it formulates new understandings and defines new contexts for this exciting and constantly evolving thing we call Illustration.
Unplanned magic by Kate Gibb
18-19 September 2014, AUB, Bournemouth – Book Now
Interpretation
is the theme of the latest 
VaroomLab
 symposium on illustration, this year held in partnership with Arts University Bournemouth. Illustrators, students and academics are all welcome.
Interpretation
seeks to explore ways in which illustrators, interpret, re-interpret and misinterpret information through illustration practice. This event will celebrate and investigate the potential exciting creative strategies and possibilities for practitioners to move minds, challenge norms and influence the ways in which we the see the world and connect with it.
You are invited to meet fellow illustration enthusiasts over a two day symposium in September in the seaside town of Bournemouth and enjoy the talks presented by practitioners and academics on illustrating the Prisoner of Zenda, Lucien Freud's early illustration work, gender representation in illustration, interpretations of error, an exploration of how visual storytelling is vital in how we engage with the world, the role of exchange between artist and scientist in natural history illustration, panel discussions and 
more
. Speakers include Chris Campe, Joel Lardner & Paul Roberts, Paul Burgess,Mireille Fauchon & Four Corners books, Andrew Kulman, Gary Embury and Thomas Barwick. Guest speakers animator, 
Cyriak
 ('
a real renaissance man albeit with a trademark surrealist attitude, psychedelic influence and love of fractal geometry and orders of magnitude
', Varoom) and 
Marcus Oakley
. You can register for tickets 
here
. Special offer accomodation can be sourced 
here
. Symposium times:
Thursday 18th September
11.30-12.30pm Registration. 12.30 VaroomLab – Welcome & Introduction to the Symposium Lunch & Refreshments will be provided during the Symposium
Friday 19th September
9.30- 10.00am Coffee. First speaker 10.00am 3.30pm Finish Tickets for 
Interpretation
 are now on sale, priced as follows:
£35 Students
£90 Standard Ticket
£50 VaroomLab Members (Limited availability)