Interpretation: Chris Campe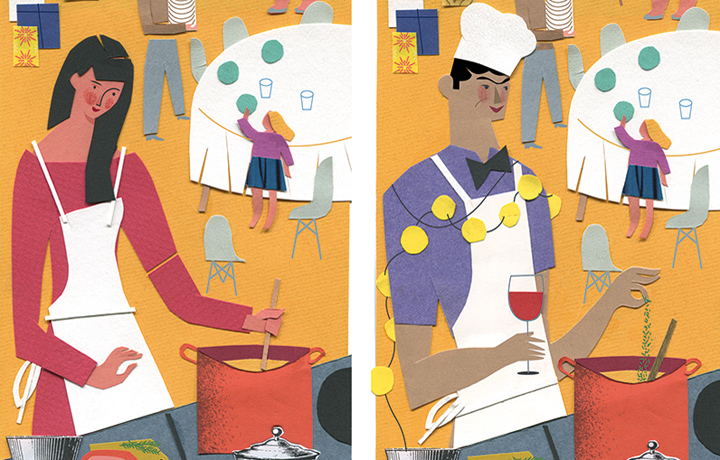 Interpretation illustration conference speaker, Chris Campe, tells us what she'll be talking on and her thoughts on illustration conferences. Interpretation is on 18-19 September at Arts University Bournemouth, hosting a great array of speakers covering a compelling variety of topics.
Tell us about your presentation
I will talk about gender representation in commissioned illustration. What men and women look like and what they do in an illustration is not always addressed up front in a briefing, but often only becomes an issue once the client sees the illustrator's first sketches and asks for edits. Based on the understanding that images do not only just depict reality but also have a part in creating it, I use three real life examples of commissioned work to examine how illustrators and clients negotiate the appearance and gendered roles of male and female characters between the initial sketches and the final illustrations.
What's the best element of attending an illustration conference?
I really enjoy meeting new people, especially those who like to think about illustration. The different the motivations and approaches to theorising illustration always amaze me. I also appreciate that many participants at illustration conferences are both theoretically inclined and practicing illustrators. So unlike scholars who don't make images themselves but only theorise and write about them, they know that making images involves a lot of intuition and contingency and tend to take that into account when reflecting on the practice.
Is illustration research important?
It is important to critically consider the role of illustration in a larger social context. Images do not simply reflect a reality that exist independent of them. Instead they always also create this reality by showing one thing rather than another and by representing a particular world view from a specific point of view. This is why making images, even within the constraints of commissioned work, is a work charged with responsibility and illustrators need to be conscious about the kind of world they represent.
I know many colleagues who just consider themselves practitioners or crafts people and don't see the use of theoretical reflection of their work. It is my impression that illustrators tend to be pragmatic – if they do not immediately see how theory and research will improve their image making, they won't engage in it. However, when I talk with colleagues about my interest in the relationship between images and reality and give them some of the examples I will use in my presentation at the conference, they become interested because this negotiation with clients about which version of reality to represent is something they experience all the time but rarely consider from this theoretical and political angle.
Chris Campe
Tell us one lesson you've learned about interpretation as an idea and practice.
I have learned that it's all a matter of perspective. How you see things depends on your stand point of view and how you interpret them depends on what you know and have seen before.
Chris Campe
18-19 September 2014, AUB, Bournemouth – Book Now
Interpretation is the theme of the latest VaroomLab symposium on illustration, this year held in partnership with Arts University Bournemouth. Illustrators, students and academics are all welcome.
Interpretation seeks to explore ways in which illustrators, interpret, re-interpret and misinterpret information through illustration practice.
This event will celebrate and investigate the potential exciting creative strategies and possibilities for practitioners to move minds, challenge norms and influence the ways in which we the see the world and connect with it.
You are invited to meet fellow illustration enthusiasts over a two day symposium in September in the seaside town of Bournemouth and enjoy the talks presented by practitioners and academics on illustrating the Prisoner of Zenda, Lucien Freud's early illustration work, gender representation in illustration, interpretations of error, an exploration of how visual storytelling is vital in how we engage with the world, the role of exchange between artist and scientist in natural history illustration, panel discussions and more.
Speakers include Bill Prosser, Chris Campe, Joel Lardner & Paul Roberts, Paul Burgess,Mireille Fauchon & Four Corners books, Andrew Kulman, Gary Embury and Thomas Barwick. Guest speakers animator, Cyriak ('a real renaissance man albeit with a trademark surrealist attitude, psychedelic influence and love of fractal geometry and orders of magnitude', Varoom) and Marcus Oakley.
You can register for tickets here. Special offer accomodation can be sourced here.
Symposium times:
Thursday 18th September
11.30-12.30pm Registration. 12.30 VaroomLab – Welcome & Introduction to the Symposium
Lunch & Refreshments will be provided during the Symposium
Friday 19th September
9.30- 10.00am Coffee. First speaker 10.00am
3.30pm Finish
Tickets for Interpretation are now on sale, priced as follows:
£35 Students
£90 Standard Ticket
£75 Early Bird (Closes August — Limited availability)
£50 VaroomLab Members (Limited availability)