Interpretation: Andrew Kulman & Roderick Mills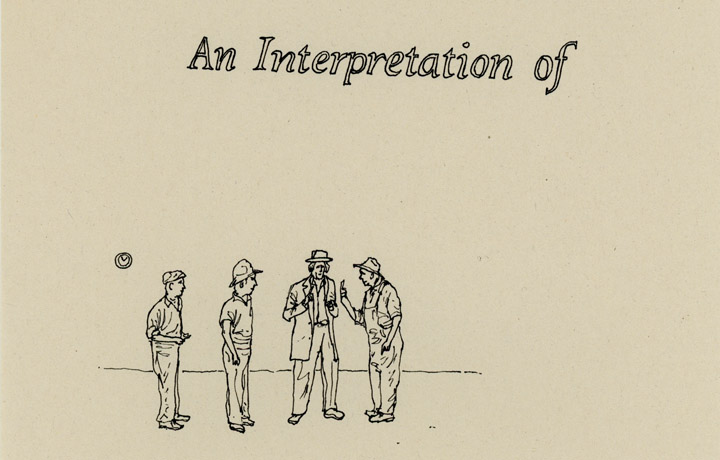 The Interpretation illustration conference 18-19 September at Arts University Bournemouth is hosting a great array of speakers covering a compelling variety of topics. Here we ask illustrators and educators, Andrew Kulman and Roderick Mills a couple of questions about illustration, the event and what they'll be doing. Andrew is talking under the Error strand of the symposium.
Andrew Kulman
Tell us a bit about your presentation
I'm hoping that the images I'm going to be showing will provoke some debate and questions afterwards. For me the chance to discuss my ideas and to offer some visual stimulus is a very compelling reason to be at the conference. My presentation looks at error in writing and imagery, from Philip K Dick to George Hardie, interesting seeing those two in the same sentence!
What's the best element of attending an illustration conference?
This year I'd like to meet with like minded academics and conduct a feasibility plan to host the next conference (in a landlocked city!) That said a good conference will always attract delegates if it's by the sea. Illustrators alike welcome the chance to see sunlight and other scribblers, if only once a year.
Is illustration research important?
Never more so than now. We're seeing more books about the practice, about it's history but hardly any touch on the theory and methodologies behind commercial art, unlike it's sister subject graphic design which has amassed volumes of theoretical discussion. Apart from the holy trinity of Heller, Poyner and Shaughnessy it's not been a favourable subject  amongst graphic art critics and writers for some reason? That said Varoom, under the editorship of John O'Reilly, has addressed this matter really well.
Roderick Mills
Tell us a bit about your presentation
The presentation will try to concisely discuss some of the ideas within the paper 'An Exploration of Interpretive Illustration Narratives' and place the writing within the context of a wider discussion on illustration. To the importance of visual storytelling or narrative in contemporary life, or communities, and identifying how illustrators are a conduit for articulating and understanding the world around us.
What's the best element of attending an illustration conference?
To share knowledge and hear the research of others, contributing to the wider discourse on the discipline. Conferences for many who participate or attend are the only times to venture outside of their own institution to talk with fellow practitioners or academics. As the art curator Hans-Ulrich Obrist has said, perhaps the social aspect of attending conferences is more important than the actual event itself?
Is illustration research important?
There seems a need for a greater critical understanding of illustration, this may be partly driven by the needs of universities to demonstrate academic research, but beyond this there is a growing sense or need for a more developed critical discourse around illustration. There is surprisingly little critical writing on illustration, as the majority of books focus on the professional practice aspect of how to become an illustrator, rather than more meaningful exploration of the discipline.
It is vital to have a vibrant research culture for illustration to help explore the possibilities for the discipline. The industry is going through rapid changes, not simply in terms of technology, but also socio-economic. Challenges and opportunities that need to be discussed, not just as an academic exercise, then to feedback into the mainstream commercial activity of illustration.
Tell us one lesson you've learned about 'interpretation' as an idea and practice.
Perhaps the importance or the need, of articulating contemporary thinking around the notion of illustration practice within an expanded field, moving away from merely the maker or the craft itself. There seems an overwhelming trend towards the making of product rather than true self-authored work that aspires to lead commissioners and take the discipline forward.