Varoom digital issues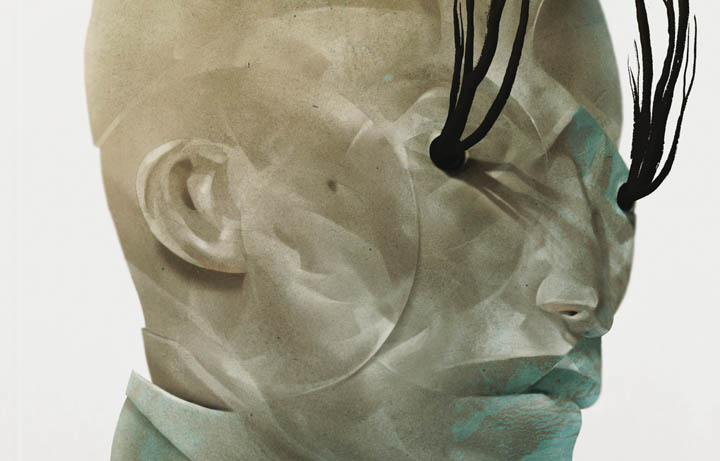 Early issues of Varoom are available online through visualMANIAC. As issues 01, 02, and 04 sold out of their physical versions a long time ago, this is a great opportunity to catch up on Varoom's fascinating early days for only €2.99 per issue. Additional back issues will be available in digital form soon.
Tasters for the first five issues are below:
VAROOM 01

the journal of illustration and made images August 2006
Cover by Sam Weber, 2005 (see main image above).
The first issue of Varoom contains a stimulating line-up of interviews, profiles, and polemic launch the first issue, which includes Emily King reviewing The Guardian's adventurous use of illustration; a survey of the contemporary illustration and image-making scene by John O'Reilly; an in depth interview with designer/illustrator Dan Fern; Steven Heller's intriguing insight into the commissioning process and why it's a joy working with Christoph Niemann, and Alice Twemlow's investigation into Ed Fella's highly illustrative typography.
Opinionated, writer-led and stuffed with visual delights, Varoom is the definitive statement on visual communication. Varoom 01 is now only available in a digital version.

VAROOM 02 

the journal of illustration and made images November 2006

Cover by Paul Budnitz and Tristan Eaton, 2005. Produced by Kidrobot, Inc.
Varoom 02 explores international trends in illustration taking a critical look at the new and radical manifestations of image making which are further stretching the boundaries of an art form rooted in tradition and the history of drawing. Set against the hostile climate of current political propaganda, London based Iranian graphic designer Nima Falatoori explores the cultural and visual heritage that influences the vibrant scene of contemporary illustration in his country. The latest developments in Japan are investigated in interviews with four Japanese illustrators whose highly influential works are revealed in 'Mapping the Terrain'.
In Varoom 02, the art director of the New York Times Book Review, Steven Heller, writes about illustrators who have developed their images beyond paper and pencil and become toymakers, a trend he traces back to the Dada movement. Paul Davis reviews David Shrigley's new animated DVD, 'Who I Am And What I Want'; Adrian Shaughnessy interviews illustrator Andy Martin and writer/broadcaster Ian McMillan about their new jointly authored book of words and pictures, 'Ideas Have Legs'. Graphic designer Vaughan Oliver makes a startling and idiosyncratic contribution by discussing his very own 'compelling image'.
In each issue an emergent or established talent is invited to contribute a visual essay. In this issue, hip Norwegian collective Grandpeople have produced a vivid critique of current marketing practices.
Varoom 02 is now only available in a digital version.
VAROOM 03

the journal of illustration and made images April 2007

Cover from Jardiland, by Sophie Rusniok, 2005-2007.
Varoom 03 explores international trends in illustration by taking a critical look at the new and radical manifestations of image making which are further stretching the art form. In his essay, 'The Image that Exploded', writer and critic Lewis Blackwell explores the changing situation of illustration within visual culture over the past decade, advocating a renewed recognition of the role illustration plays within all modes of visual production. The use of advanced 3D software by four radically different illustrators to create their own distinctive silicon wizard worlds of the future is revealed in 'Mapping the Terrain'.
In Varoom 03, Steven Heller interviews Sara Fanelli, one of the leading lights of European illustration, on the myriad of mythological, literary and artistic influences shaping her dream-like images. Anna Gerber profiles illustrator David Foldvari, exploring his work through an inner-restlessness that propelled him on a personal quest to discover his Jewish roots. Eye founder Rick Poynor exhumes the uncanny work of early 70s powerhouse illustrator Stewart Mackinnon and explores the reasons why he turned his back on illustration.
For the visual essay, in an autobiographical meditation on childhood, work, war and forbidden body parts, Robert Ryan walks in the quiet footsteps of Bawden, Ravilious and the other deities of English narrative illustration. Illustrator David Hughes reminiscences about the compelling images that have stayed with him throughout life. Reviews include Mitchell Miller on the new Margaret Tait DVD, '…Selected Films 1952-1976', and an 'Andy Warhol 1948-1960' exhibition of early sketches and drawings.
VAROOM 04

the journal of illustration and made images August 2007

Cover image by Bela Borsodi
Varoom 04 features articles exploring international trends in illustration, including a rare interview with Ian Wright, one of the UK's leading image-makers. Called 'the Grandfather of contemporary illustration', Wright retraces the development of his career from black and white portraits for the NME to his recent unique Hama Bead work. In an essay entitled, 'Is Illustration a Big Enough Profession' Steven Heller challenges the contemporary significance of illustration and calls for an expansion of illustration beyond the 'editorial spot.'
Varoom 04 explores the role of illustration in the green debate and investigates the question: is illustration an effective way to explain complex scientific information on climate change – or is it a tool for greenwashing? Varoom editor Adrian Shaughnessy contributes a retrospective survey of Illustrators, the AOI's journal during the 1970s and 1980s. Anna Gerber profiles Black Dice musician Bjorn Copeland, who is exploring the physicality within his sculpturally influenced collage work for the band's distinctive album covers.
Faye Dowling interviews four radically different practitioners from the world of fashion. These include the current superstar of fashion illustration, David Downton, as well as Mat Maitland, Marcus James and Bela Borsodi. In this issue's visual essay, Beata Szczecinska composes a story exploring words like 'differ', 'discord' and 'divide'. Shane Walter, founder of moving image festival onedotzero, recalls the influence Maurice Sendak's 'Where the Wild Things Are' had upon him as a child.
Varoom 04 is now only available in a digital version.
VAROOM 05

the journal of illustration and made images November 2007

Cover image: Le Sapin (The Pine Tree) by Marc Boutavant/Heart
In Varoom 05 Adrian Shaughnessy, award-winning art director, writer and design consultant, discovers The Importance of Mistakes in an interview with one of the founding fathers of radical contemporary illustration, Terry Dowling. In a revealing and far-ranging interview Dowling describes his early failed attempts to get commercial work, and his subsequent rejection of commercial practice in favour of teaching and a life of personal enquiry.
Varoom 5 also explores Illustration for Children through four exponents in this issue's 'Mapping the Terrain' and Mark Webster challenges Mario Hugo's self-described 'tempestuous affair with illustration', revealing him to be a thoughtful artist, eschewing the hard digital lines of much contemporary expression, in favour of a softer and more humanistic approach.
Each issue features a visual essay and Varoom has invited freelance graphic designer and illustrator Neil McFarlane to comment on the modern obsession with spin and hype in 'A Beginner's Guide to Propaganda'.
In 'An Unwritten Diary' Richard Beards recalls an English illustrator's perspective of New York. Despite having a New York agent for 15 years, British illustrator Beards failed to conquer the great metropolis. He decided to move there and for six months he observed the NYC scene with a mixture of cool detachment and cinematic-like wonder. This diary chronicles his self-imposed exile in the 'greatest city on earth'