ICON 9 The Illustration Conference
July 6-9, 2016 Austin, Texas, USA

Over four full days of conference ICON brings a programme of speakers and events reflecting the independent spirit of the Lone Star State. ICON brings together top illustrators, designers, educators, representatives, and art buyers to explore The Future of Illustration, and Varoom is a media partner for the event. The venue for ICON9 is the Austin Hilton Hotel in the heart of the city's thriving entertainment district. The city's bustling arts vibe, World famous music scene and Tex-Mex infused culture makes Austin a natural destination for ICON9.
The four day program brings;
Main Stage Speakers: ICON9 presenters include over 50 illustrators, artists and creative professionals curated from the highest ranks in our industry who will take the main stage to inform, entertain and enlighten you.
Scheduled speakers include; Selina Alko, Lilli Carré, Gemma Correll, Eleanor Davis, Henrik Drescher, Camille Rose Garcia, Anita Kunz, Roman Muradov, Moonbot Studios Virtual Tour, Melinda Beck, Kayla E (Nat Brut)., Jessica Hische, Shelly Jackson, Geoff Peveto, Svein Størksen (Magikon Forlag), Paul Windle, Alexandra Zsigmond (New York Times), Sean Qualls, Julia Rothman, Martha Rich, DJ Stout (Pentagram), Michael Thompson, Jonathan Tobin On Orphan Works, Sam Weber, Calvin Wong, Kyle Webster, Ping Zhu, and more.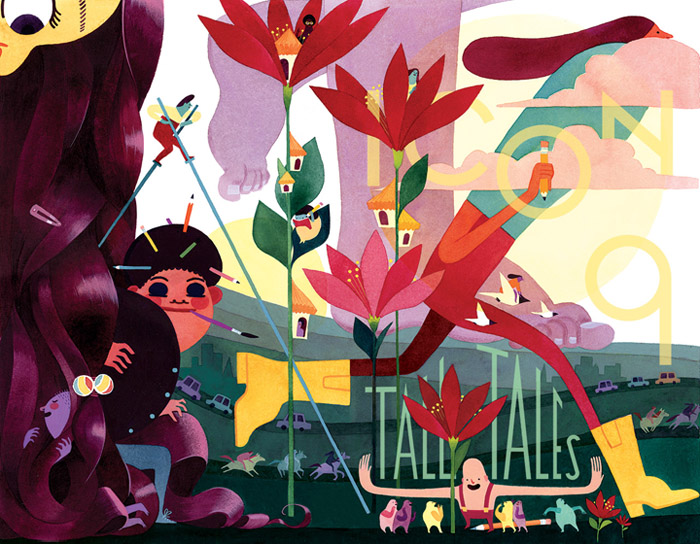 Education Symposium celebrates new and innovative methodologies for teaching illustration in the 21st Century. This two-day Main Stage event features a presentation of papers by a global selection of noted educators culminating in a round-table discussion on traditional and online learning.
Workshops. Over 24 workshops engage attendees through lectures, studio tours and hands-on activities which run both Wednesday and Thursday. Workshop presenters include Lille Carre, Jessica Hische, Kyle Webster, Paul Windle and Julia Rothman. Registration for workshops begins in early March.
Roadshow is a pop-up event and marketplace showcasing the work and wares of over 60 exhibiting illustrators and artisans. Book signings, installation, unusual books and handmade objects play a role in this 3 hour evening during the Opening Night Cocktail Event.
For the full programme and ticket registration see ICON blog
ICON9 image illustrated by Eleanor Davis 
ICON9 Schedule
WEDNESDAY, JULY 6
9:00am – 4:00pm: EDUCATION SYMPOSIUM
9:00am – 4:00pm: WORKSHOPS
THURSDAY, JULY 7
8:00 am- 5:00pm: EDUCATION SYMPOSIUM
9:00am: – 4:00pm: WORKSHOPS
5:30pm: OPENING/KEYNOTE
7:00pm – 10:00pm: ROADSHOW/OPENING COCKTAIL EVENT
FRIDAY, JULY 8
9:00am- 6:30pm: MAIN STAGE SESSIONS
6:30 – 7:30pm: HAPPY HOUR
8:00PM – 11:00pm: GALLERY EXHIBITION
SATURDAY, JULY 9:
8:45am – 4:55pm: MAIN STAGE SESSIONS
5:15 – 7:35pm: FAREWELL KEYNOTE
8:00pm -12:00am CLOSING PARTY