Events

Event in 2015:
VISIONARIES symposium
5 and 6 November 2015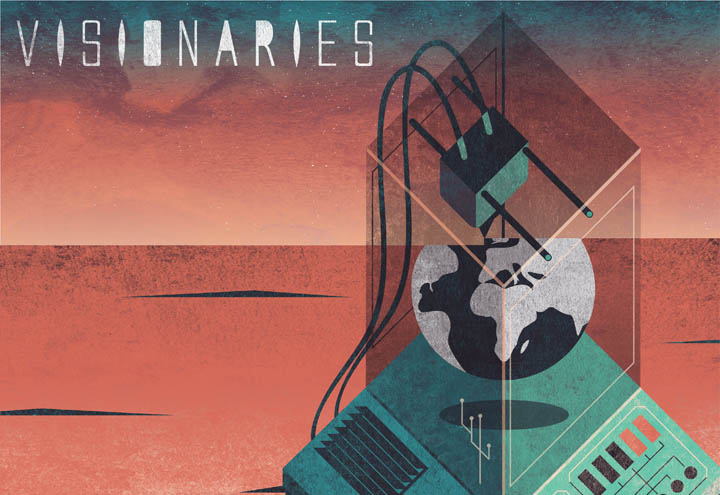 Venue: Birmingham City University   Event report here
This two day VaroomLab/Birmingham City University symposium in November was held in Birmingham, with talks presented by practitioners and academics on the illustrated map as a mode of communication, tracing the link between visionary J.G. Ballard and the cultural and virtual fabric of 2015, drawing and the digital networks of the contemporary urban landscape, revisiting the vision of the original Association of Illustrators committee, and imagining an alternative future for arts education. A film on the manifestations of vision in contemporary illustration practice will also be presented.
This event investigated the way visionary approaches are able to expand the way we perceive the world, and also how influences from the past continue to resonate today. Illustrators, students and academics are all welcome.
Speakers included Matthew Richardson, Gareth Proskourine-Barnett, Richard Miles, Andrew Kulman, Rachel Gannon, Darryl Clifton and Andy Davies.
Petcha Kutcha presentations from Alice Moloney, Christian Lloyd, Jo Berry, Jo Hassel, Chloe Regan and Aiden Winterburn.
Guest keynote speakers were Paul Slater and Graham Elliot.
Presentations included the following:
Myths of the near Future: Ballard, Crusoe and Google
Field Notes From The Future
Illustration; Education; Revolution
40 Years On: revisiting the vision of the original Association of Illustrators committee
Visualising Spaces: The Illustrated Map as a mode of communicating Fact, Fiction and Feeling
 
Plus Petcha Kutcha presentations on a variety of topics:
'The in-betweener' – Jo Berry
Performing in a do-It-yourself nudie suit – Christian Lloyd
Off her hostess-trolley: Telling it a different way – Jo Hassal
A new breed: How should we champion the mavericks and pioneers of the illustration industry? – Alice Moloney
Illustrator as Detective: Discovery through Drawing' – Chloe Regan
Self-Reflexivity and Contemporary Illustrated Children's Books – Aiden Winterburn
£35 Students  /  £75 Standard Ticket  /  £50 VaroomLab Members (Limited availability) Book here
Illustration by Josh Patterson
Papers / Presentations
Myths of the near Future: Ballard, Crusoe and Google – Matthew Richardson

Abstract:
Keywords: J.G. Ballard, future-past, mapping time, mapping space, non-spaces, psychogeography, myth, technology, google, unreliable narrative
J.G. Ballard (1930-2009) was a visionary; his writing has a strange prescience, that seems (impossibly) to remain prophetic of the future as he describes a kind of 'fabulation' of the present. Ballard's dystopian fiction shifts to fact, forecasting global warming, urban dereliction, decadence and the psychological effects of technology, society and (mis) communication.
My practice exploits found images and framing devices to inhabit the slippages between fact & fiction, where certainty drifts towards myth. This presentation will consider Ballard's narration of space and time (especially in relation to his condensed novels of the 1970s). I will trace a link between written word and created image to illustrate how Ballardian prophesies continue to return through the cultural and virtual fabric of 2015. These aspects will be explored and described through work in progress of a project titled 'Am I the Island', where we travel (via Google Streetview) through the physical and metaphoric spaces described in J.G. Ballard's 'Concrete Island' (1973) – a re-casting of the Robin Crusoe myth.
The protagonist crashes and is marooned in no-man's land, between the intersections of dual carriageways and motorways, just off the A40 in London, trapped in a literal and symbolic non-space of the urban landscape. From the 'future' perspective of 2015, the glitches and mis-connected spaces in the 'Streetview experience' provide an opportunity (beyond metaphor) for a Ballardian re-enactment of isolation, expectation and dashed hope, ultimately frustrating the chance of mapping an escape.
'Am I the Island' moves across narrative forms investigating the interplay between image, sound and text, with the work attempting to exist somewhere between a book, a virtual experience, a film, a place or a memory.
Field Notes From The Future – Gareth Proskourine-Barnett

Abstract:
Technology is everywhere! It is almost impossible to isolate oneself from the effects of technological influence but the more a technology is depended upon, the more it presents a potential threat. It could be argued that we no longer need to travel; from the comfort of our own home we can experience almost any part of the globe through our laptops or tablets – but is it possible to have a real experience from within the virtual landscape?
Field Notes From The Future proposes that these suspected threats actually reveal new hybrid processes and provide an opportunity to reclaim the potential of digital technologies. Weaving a path between the speculative fiction of J.G Ballard, psychogeography, hauntology and Post-Internet aesthetics, this paper will explore the overlap in my own practice between analogue and digital technologies, raising the question 'What is a drawing?' Is the drawing the end product or the process of making a mark?
Following in the traditions of the flâneur I explore landscapes both physically and virtually – the walk becomes the means from which to interrogate the ideology imbued in the fabric of the architecture, exploring the transitory and contradictory nature of cities, and addressing the physicality and social history of our constructed environments. This paper will present recent projects and work in progress from Bangkok, Bangalore, the Red Sand Sea Fort in the Thames Estuary and Birmingham's Central Library. Works use Post-Digital and Post-Internet practices to construct and archive virtual manifestations of the sublime, playing with the assertion and distortion of narrative upon place. Works are an attempt to describe a world where ruins have become utopias, where history is written to alter the future, where new narratives are constructed and where archaeology and futurism merge.
Illustration; Education; Revolution – Richard Miles

Abstract:
This paper draws upon the thought of the philosopher Jacques Rancière to point to a particular 'distribution of the sensible' currently in operation within the field of visual arts practice, institutionally and culturally. For Rancière, the 'distribution of the sensible', refers to implicit conventions, laws, regulations, social structures, behaviours, and modes of consciousness, which separate individuals or social spheres from each other, preventing participation in the creation of a common world (Rancière 2004: 85). It creates certain subjectivities and assigns proper identities, which are distinct from, and often artificially opposed to, one another. My paper seeks to understand how this distribution affects the arts and arts education, particularly in their institutional setting. It also attempts to describe the debilitating effects of this system on the student-subject caught in its web. As such, this paper aims to be far reaching, speculative and a provocation for further discussion. It does not seek to be an exhaustive history of the art school, in either it conservative or radical formation. Instead, by forwarding a case study of one recent radical art school, which is read via Rancière as both social form and dissensual strategy, it aims to suggest how collective creative activity can challenge the 'distribution of the sensible', generating alternative subjectivities which transcend limiting and essential designations such as 'student', 'artist', 'teacher', 'illustrator' 'worker' and so forth (Rancière in Dasgupta 2008: 71; Highmore 2011).
I propose to undertake this analysis in four movements. Firstly, I briefly introduce Rancière's concept of the 'distribution of the sensible', suggesting ways in which it manifests itself in the culture and discourses of the arts and arts education. Secondly, I take a reading of Rancière's 'The Ignorant Schoolmaster' (1991) to demonstrate its relevance for contemporary arts education. Thirdly, I turn to my case study of the radical, autonomous, UK art school, 'The School of the Damned', before moving to a speculative conclusion from which I hope, in keeping with the theme of this journal, the reader can begin to envisage a future for arts education that transcends institutional and disciplinary limitations and, indeed, capitalist societal relations themselves.
40 Years On: revisiting the vision of the original Association of Illustrators committee – Andrew Kulman

Abstract:
Research Question. What was the founding mission of the AOI and how has it's legacy impacted on current Illustration practice?
Preamble
In 1973 the emergence of the Association of Illustrators heralded a foundation on which British Illustration was to prosper and grow. My paper proposes to revisit the original manifesto and intentions set out in 1973 and re-evaluate these in light of developments in industry and commerce. Direct comparisons with the American Society of Illustrators offering a transatlantic comparison will allow a more objective critique. The outlines and a Code of Practice remain the starting point and from that we can re-evaluate them. This aspect will address social change and professional expectation.
From interviews with founding committee members, John Farman, Brian Sanders, Brian Grimwood and Alan Manham I will present both reflected comment and memory.
An ongoing renewed interest in 1970's/80's practice will allow this research theme to cover an important period in British Illustration history and will add context to recent publications that focus on entirely on actual practioners. I propose to revisit the original aims and boundaries, focusing on where did the grants come from, what sub committees were formed and how did the dynamic of early committee memberships work? Whilst investigating what became of the original founders, I also seek to find out how they view their legacy and what might have been done differently? A lesson to us all and something that younger illustrators may not be aware of?
Using archive material and primary research I propose a paper that will give a clear insight into the early days of the association and look at the legacy of these pioneers. The paper will consider how a guiding mission can affect a business model and make a significant difference to a profession. It will also provide a brief social history of illustration at a time when significant change was happening in publishing.
The symposium presentation will be visual and will include original material as well as a survey of contemporary movements in graphic art.
The paper will be divided into discrete sections
1973/4, the context of the foundation. This section will examine the socio/historical background.
The development and adaptation of the Association.
A current perspective looking back and projected visions from current members/committee going forward.
Visualising Spaces: The Illustrated Map as a mode of communicating Fact, Fiction and Feeling – Andy Davies

Abstract:
Communicating thoughts, facts and narratives through visual devices such as allegory or symbolism was fundamental to early map making and still is to contemporary illustration. Drawing was employed then as a way of describing historic narratives (fact and folklore) through the convenience of a drawn symbol or character. Ignorance or lack of knowledge of the collective audience and the illustrator allowed a degree of interpretation of information. The map creators were visionaries, depicting known discoveries and anticipating what existed beyond the agreed boundaries. As we now have photographic and virtual reality maps at our disposal, how can illustration develop the language of what a map is and can be? How can we break the rules of map design and yet still communicate the idea of a sense of place with the aim to inform, excite and/or educate the 'traveller'?
As Illustrators we need to question the purpose of creating a 'map': what do we want to communicate and is representational image making the only way to present information of a location? Is creating a more personal interpretation a form of cartouche, reminiscent of elements within the Hereford Mappa Mundi and maps of Blaeu, and can this improve/hinder the communicative aspect of the map? Looking at a variety of historical and contemporary illustrated maps and artists (such as Grayson Perry),who track their journeys through drawing, both conventional journeys and emotional, I will aim to prove that the illustrated map is not mere decoration but is a visual language providing an allegorical response to tangible places and personal feelings.
Immaterial Boundaries film – Rachel Gannon & Darryl Clifton  
Our interest lies in the manifestation of vision/visionary-ness in contemporary Illustrative practice. Assuming a conflated definition of the visionary, one where the future facing 'leader' is blended with the imaginative 'seer', we would like to investigate visionary-ness in the new and emerging forms Illustration takes. With a general focus on nascent visual language and style that extends the boundaries of the discipline, as well as notions of thing-ness, materiality and immateriality; our intention is to produce filmed case studies and interviews of practitioners. The intention is to scrutinize the nature of their work, their motives, aspirations and visions.
We are therefore proposing a short documentary film, reviewing the work of four contemporary Illustrative practitioners whose work is derived from the discipline (see below for proposed list of participants) but occupies territory on the periphery of mainstream practice. Arguably this is work that constitutes a vision for the discipline, work that embraces, as well as critiques, the prevailing contemporary working paradigm for Illustrators; conditions that are fluid and unstable. It is also work that proposes new visual languages for audiences and Illustrators, challenging modes of content dissemination and dialogue.
KEY NOTE SPEAKERS
Graham Elliott
After successfully completing pilot training with the RAF, Graham Elliott decided his career lay in art rather than in the air. He graduated with an Illustration masters, from the Royal College of Art and went on to design some of the first motion graphics for MTV. He illustrated for many publications notably The New York Times and The Sunday Times magazine. Designing record sleeves for rock band Living Colour, which went platinum, he also directed their 'Glamour Boys' music video and produced the stage design for the tour with the Rolling Stones. He has worked as a creative director at Saatchi and Saatchi, directed commercials for Coca-Cola and music videos for Puffy, in Tokyo, as well as projects in twenty plus countries. Currently, with his New York company Fovea Films, he is directing and producing commercials, music videos and documentaries. He has been teaching motion graphics and music video classes, at the School of Visual Arts, New York, for the last 10 years. His sketchbooks are included in Sketchbooks of the World's Great Graphic Designers by Steven Heller.
His feature documentary New York in Motion was selected for over a dozen film festivals worldwide. He is working on a new film, World in Motion, exploring the influence of cultural background on creative expression. Elliott was keynote speaker at the 'International Motion Festival, Cyprus' in 2012 and 2015.
Paul Slater
Paul is a Northern soul, originally hailing from Burnley in Lancashire, where he began his journey into his talent, later travelling South as a young adult in the 1960's. Pursuing his education via Maidstone Arts School and later at London's Royal College of Art. He describes his artistic essence as "Sardonic Tomfoolery", mixing warmth and humanity with a little bit of darkness. His work also inspires a sense of homeliness though, safety through the familiarity of the strong colours that you might remember from Ladybird books, or Enid Blyton book covers.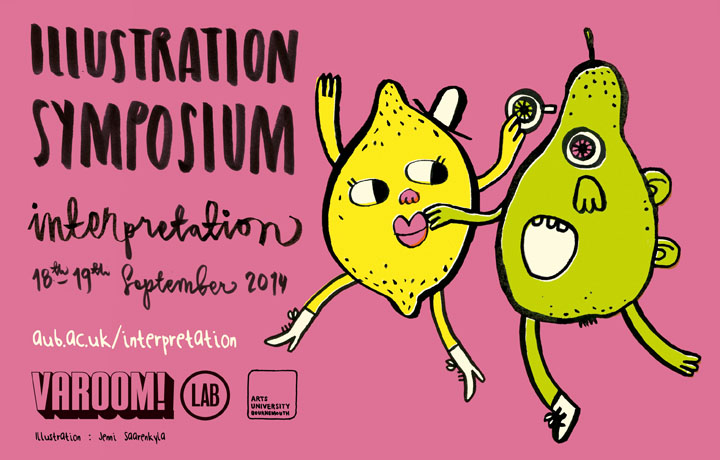 INTERPRETATION
18-19 September 2014
Venue: Arts University Bournemouth

Event Report here
Interpretation is the theme of this VaroomLab symposium on illustration, held in partnership with Arts University Bournemouth. Illustrators, students and academics were all welcome.
Interpretation seeks to explore ways in which illustrators, interpret, re-interpret and misinterpret information through illustration practice.
This event celebrated and investigated the potential exciting creative strategies and possibilities for practitioners to move minds, challenge norms and influence the ways in which we the see the world and connect with it.
You are invited to meet fellow illustration enthusiasts over a two day symposium in September in the seaside town of Bournemouth and enjoy the talks presented by practitioners and academics on illustrating the Prisoner of Zenda, Lucien Freud's early illustration work, gender representation in illustration, interpretations of error, an exploration of how visual storytelling is vital in how we engage with the world, the role of exchange between artist and scientist in natural history illustration, panel discussions and more.
Speakers included Bill Prosser, Chris Campe, Joel Lardner & Paul Roberts, Paul Burgess,Mireille Fauchon & Four Corners books, Andrew Kulman, Gary Embury and Thomas Barwick. Guest speakers will include animator, Cyriak ('a real renaissance man albeit with a trademark surrealist attitude, psychedelic influence and love of fractal geometry and orders of magnitude', Varoom)
The symposium was held 18-19 September 2014. Tickets here. Accomodation can be sourced here.
Tickets for Interpretation are now on sale, priced as follows:
£35 Students
£90 Standard Ticket
£75 Early Bird (Closes Early August — Limited availability)
£50 VaroomLab Members (Limited availability)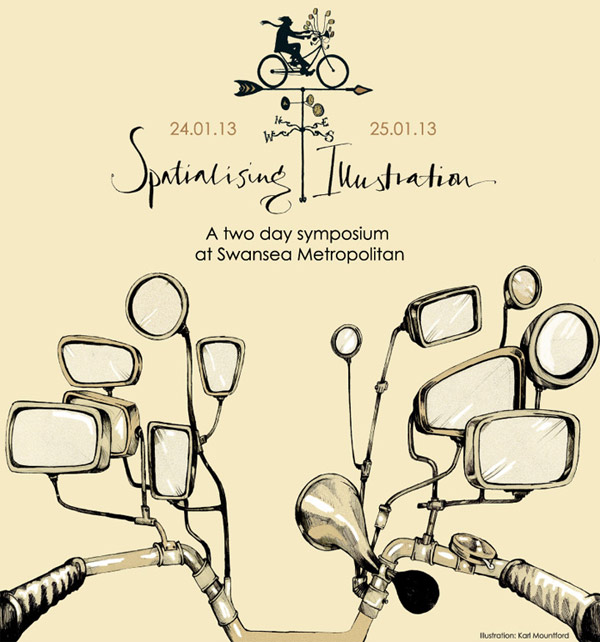 SPATIALISING ILLUSTRATION
Swansea Metropolitan University and VaroomLab Illustration Symposium
24th and 25th January 2013 
Venue: Swansea Metropolitan University
Spatialising Illustration symposium seeks to explore ways in which we encounter space through illustration. The event aims to roam beyond illustration as a discipline and explore it as a medium inherent in many artistic activities; a medium that evokes ideas and narrative, and one that offers subtle messages about the spaces and places we encounter.
From the monumental to the commonplace, we experience our surroundings in a profusion of ways. Whether geographically or historically, culturally or psychologically, place is bound to shifting meaning and significance. Illustration has the capacity to lead us to both physical and mindful places: like a symbolic map of society, navigation is by way of interpretation; putting into context – spatialising.
Keynote speakers:
Chris Aldhous - Ghost of Gone Birds
Founder / Creative Director GOODPILOT
Chris was the creative director at various international ad agencies before setting up his own idea agency in 2007, dedicated to persuading clients to invest their money in more meaningful, storytelling projects, supporting independent initiatives by artists, photographers and film makers.
He ran the HYPE Gallery project across Europe for two years, opening pop-up art spaces in Paris, Moscow, Milan and Berlin. He provides creative consultancy for a range of NGOs including ActionAid, WaterAid, Global Campaign for Education, Bollocks to Poverty, International Alert and Save The Children. He's also working with Ridley Scott Associates, developing multi-platform film projects with several of the directors.
In 2009 he created Ghosts of Gone Birds as an ongoing campaign to raise a creative army for conservation. The project has already produced art exhibitions in Liverpool, London and Brighton, featuring over 150 artists, writers, poets and musicians.
In 2013, the Ghosts project will continue to pop-up in unexpected venues around the country, forging a grass-roots creative network of artists committed to raising awareness and funds for frontline conservation activity.
Laura Carlin MA RCA, Illustrator
Visiting lecturer at the University for the Creative Arts at Maidstone.
Laura Carlin primarily works in her sketchbook, both on location and at her studio. A prolific drawer and painter, she has learnt to appreciate mistakes and understand the power of white space. Laura currently works in an advisory role with the development of Quentin Blake's House of Illustration. She is also a regular visiting lecturer at the University for the Creative Arts at Maidstone.
Nicola Davies Children's Author
Nicola Davies graduated with a degree in zoology before becoming a writer, producer, and presenter of radio and television programs. Her award-winning books for children include BIG BLUE WHALE, ONE TINY TURTLE, SURPRISING SHARKS, and BAT LOVES THE NIGHT. More recently Nicola and illustrator Mark Hearld collaborated on "A First Book of Nature", published this year by Walker Books.
Simon James Author/ Illustrator
Simon James first book, The Day Jake Vacuumed, was published in 1989 – and two more books about Jake soon followed. "My Friend Whale", was the first of several concerned with a child's relationship with the natural world – "Dear Greenpeace", "Sally and the Limpet", "The Wild Woods" and "The Birdwatchers" have established Simon as one of the country's leading author/illustrators. "Leon and Bob" won the Smarties Book Prize Silver Award and was the New York Times' Best Illustrated Book of the Year, and "Days Like This", a collection of small poems, was shortlisted for the Kate Greenaway Medal. "Baby Brains" was the overall winner of the Red House Children's Book Award in 2005, voted for by 25,000 children.
Booking and Information here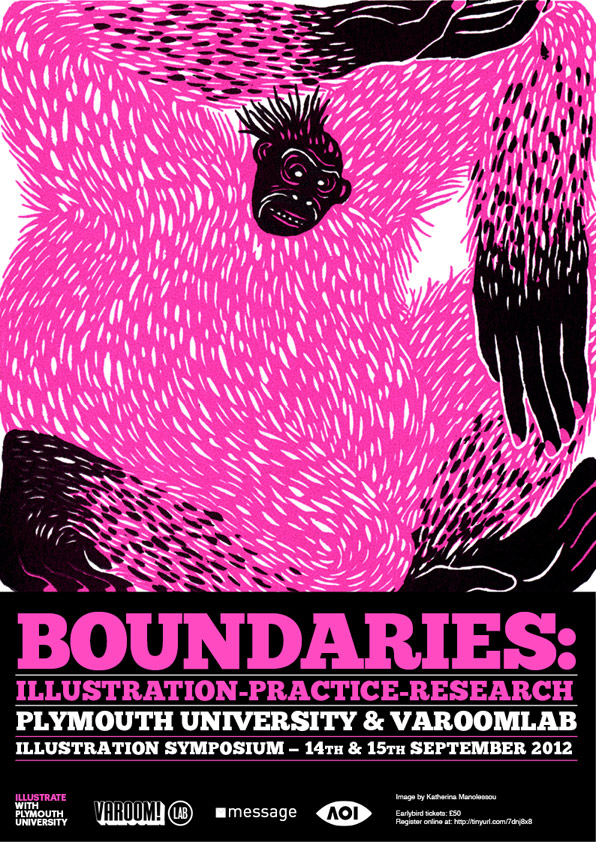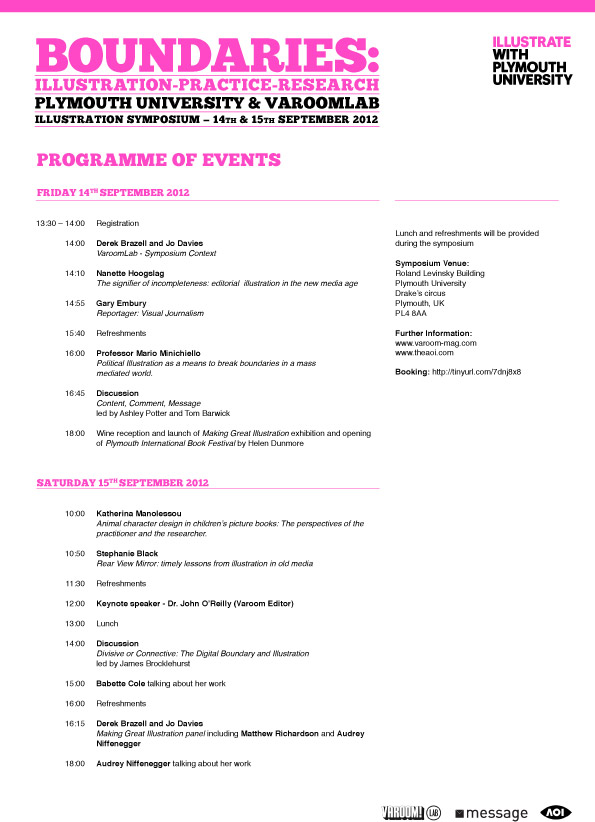 BOUNDARIES: Illustration-practise-research
Plymouth University and VaroomLab Illustration Symposium
Held 14 and 15th September 2012
Venue: Plymouth University
Symposium tickets included an invitation to the drinks reception of the opening of the Plymouth International Book Festival and the launch of Making Great lllustration exhibition.
The symposium was a platform to consider issues around the subject of illustration practise and research, sharing of knowledge and experience whilst pushing the boundaries of critical engagement.
The event explored how new technologies, concepts, and professional issues are encouraging innovation, shaping the subject and pushing the illustration community to practice in new ways.
The symposium aimed to:
• disseminate and showcase research and practise from the subject
• facilitate the dissemination of research
• provide debating and networking opportunities for participants
Peer reviewed presentations:
Stephanie Black – Illustrator/researcher
Rear View Mirror: timely lessons from illustration in old media (pub. in V18)
Gary Embury - Illustrator/academic
Reportager: visual journalism
Nanette Hoogslag – Illustrator/designer/researcher
The signifier of incompleteness: editorial  illustration in the new media age
Katherina Manolessou – Illustrator/academic
Animal character design in children's picturebooks: The perspectives of the practitioner and the researcher.
Professor Mario Minichiello – Illustrator/academic
Political Illustration as a means to break boundaries in a mass mediated world
Also:
Presentation on their book, Making Great Illustration, by Derek Brazell and Associate Professor Jo Davies
Audrey Niffenegger in conversation with Derek Brazell on her visual books and novels
Babette Cole, children's book author and illustrator, discussing her career
Private view and launch of the Plymouth International Book Festival – 14th September
Delegates were invited to attend the launch of Making Great lllustration, an exhibition of artwork and photographs exploring the working processes of more than 20 of the world's leading illustrators, including Ronald Searle, Ralph Steadman, Quentin Blake, Emmanuel Guibert, Yuko Shimizu and Kitty Crowther, and opening of the Plymouth International Book Festival with readings by Helen Dunmore.
REGISTRATION: closed