Calls for papers – 2014-15
VaroomLab supports illustration research. Calls for papers are presented below. Please note that VaroomLab is not involved as a partner in these Calls and all enquires should be directed to the relevant organisation.
Calls for papers 2015
The 2015 Call for Papers listed below are:
Call for Papers: Message Journal 3 Deadline for abstracts: 25 September 2015
Call for Papers  ICON9 Education symposium  July 15, 2015
Call for Papers: The Illustrator as Public Intellectual 1 June 2015
THE ILLUSTRATOR AS PUBLIC INTELLECTUAL
Call from Illustration Research Network and RISD Illustration
Illustrators and all who study their work have long understood the importance of pictures to communicate ideas and shape opinion, and to possibly provoke the viewer in unpredictable ways. What should illustrators say in the public sphere? What forces limit the illustrator's expression of thought? What are the key issues and debates around the communication of ideas through illustration?
Organized and hosted by the Illustration Research Network and RISD Illustration, the 6th annual International Illustration Research Symposium invites proposals for papers, panels, round tables, and visual presentations on the theme of the illustrator as not only conveyor of established intellectual thought in the public sphere, but also as a vital, potent voice in public discourse and the author of content through independent provocation, seduction and persuasion.
The Illustrator as Public Intellectual questions the common misconceptions that the illustrator's mind and hand are wholly guided by editors, art directors, and clients; and that their work is subordinate to the texts they illustrate. This symposium proposes that illustrators are empowered as originators and purveyors of unique thought.
The visual languages of the illustrator not only translate content, they transform it, indelibly inscribing ideas with force and conviction at the intersection of visual and verbal thinking. And yet, public exposition is dogged by inevitable challenges, including balancing profundity and accessibility, intention and misinterpretation. Papers may embrace or reject the concept of the public intellectual, while addressing relationships between communicative intention and audience reception.
The definition of illustration is open to wide interpretation by participants, but as a general guideline illustration may be provisionally defined as fabricated images primarily created to elucidate and communicate an idea, narrative, mood, information, and/
or opinion through publication. Studies on the illustration of any era or place are welcome.
300-word proposals for 20-minute academic papers and practice-based presentations are invited, and may address the following questions, or others that the presenter feels are warranted:
Studio Practices
How do different forms, techniques, and materials affect attitudes, feelings, ideas and the legitimacy of messages?
How is "thought" manifested in an illustration—how do creative and visual thinking processes comprise unique forms of cognition?
What is the relationship between the canon of intellectual thought and illustrators' methodologies?
In what ways does an image embody a philosophy?
What emerging technologies might further or hamper the intellectual reach of illustration?
Public Sphere
How do ethics and social responsibility impinge upon illustrators?
If an audience misinterprets an illustrator's intentions, is the audience's reading valid?
What happens when the interests of the intended audience are at odds with the interests of a wider audience?
What is the impact of technologies of dissemination, old and new, on audiences, creators, and messages?
Creative and Intellectual Communities
When, where, and how do illustrators participate in important political, social, and intellectual debates?
What is the intellectual community of illustrators and what challenges do they face, particularly in educating illustration students?
Can intellectual partnerships between illustrator, designer, author, and/or publisher exist?
What is the appropriate balance between an illustrator's personal satisfaction and the client's wishes, and what is at stake when a clash occurs?
What are future directions for the field of practice as a forum for public intellectual discourse?
Email 300-word abstracts to irsymposium[at]risd.edu by Monday, 1 June 2015.
Proposals are blind peer reviewed. Selected papers and presentations will be considered for publication in forthcoming issues of the peer reviewed Journal of Illustration.
MESSAGE JOURNAL, EDITION 3

What is the topography of the contemporary graphic design / communication landscape in relation to art practice? What occupies the space between disciplines?
Call for academic submissions
Scholarly submissions are invited for consideration in Message edition 3 – an international open access journal published by the University of Plymouth Press.
Message Open Access is an open access journal where all materials, once published will be freely available. Published papers/reports will remain the copyright of the author.
Message edition 3 will be published in July 2016
Dates for submission of abstract (300-500 words): 25 September 2015
Notification of abstract acceptances: 9 October 2015
(4000-6000 words): 8 January 2016
Email to:[email protected]
For more details of Message visit:
What is the topography of the contemporary graphic design / communication landscape in relation to art practice? What occupies the space between disciplines?
Message journal edition 3, aims to explore further the boundaries between contemporary graphic design/communication and art, as well as examining what occupies the space between the disciplines.
Authors, through written and illustrated submissions, may question and investigate the broad nature of graphic design and communication practice in relation to both historical and contemporary contexts. The intention of this edition is to debate and illustrate whether graphic design/communication can be seen as imaginative, intuitive and creative self (or group) expression – a form of artistic composition – in the same way that we recognise much of art practice? Or is there practice outside the conventional boundaries of contemporary graphic design/communication that demands a space of its own?
More information Message Journal edition 3 – Call for papers
ICON9 EDUCATION SYMPOSIUM: CALL FOR PAPERS
Academic and professional submissions are invited for peer review for ICON9: The Illustration Conference.
The Conference will be in Austin, Texas in July 2016.
RADICAL TEACHING; NEW APPROACHES IN PEDAGOGY
Symposium Date: July 6-7, 2016
 Venue: Austin Hilton Ballroom
 Dates for abstracts submission: July 15, 2015
The ICON9 Education symposium seeks to explore ways in which educators can effectively address the myriad changes in the methods of teaching, creating and delivering illustration now and in the coming decades. Digital technology has not only rewritten what illustration is and what it will become, but it is drastically changing how art and illustration will be taught and learned.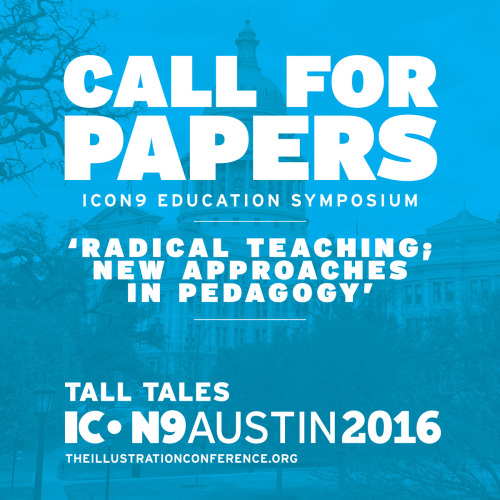 CALL FOR SUBMISSIONS
An open call is made for contributions that broaden the understanding of how illustration is changing in the classroom and in practice. Unusual avenues of practice and enquiry are welcome, including both theory and practice-based researchers, academics, illustrators, painters and artists.
Download the full Call For Papers Document here
POSSIBLE THEMES MIGHT INCLUDE:
Hand Made; embracing the resurgence of traditional media and hand made art in the classroom

Space & time: the evolution of 3D, Interactive and Motion-based Illustration (and how to teach it all)

Rethinking the Illustration Major; where does it fit in your institution?

Projects that make students think

The Death of the Classroom; how digital technology will kill traditional teaching and learning methodologies

Thinking Globally, Working Locally: using your neighborhood to teach larger lessons and reach global audiences

Teamwork; projects that involve collective thinking and making

Make a Mark; creating socially conscious illustrators

The Art of Seeing; teaching students to take a closer look at the world and their place in it

Shifting Paradigms; keeping up with the changing nature of illustration

The Entrepreneurial Illustrator; teaching students the art of business and the business of art
Those wishing to participate are invited to submit proposals that can be presented as research papers and presentations addressing the themes as outlined above.
ABSTRACT FORMAT:
Initial submissions should take the form of an abstract of up to 300 words.
Bullet points of key concepts accepted.
In addition to the abstract, please include the presenter's name(s), affiliation, email and postal address together with the title of the paper and a 150 word biographical note on the presenter(s). These can be as PDF or Word documents.
Email to Rick Lovell: [email protected]
Receipt of your abstract submission will be made within 5 working days.
Selected proposals will be juried by ICON9's panel of peer reviewers. If selected, papers should be from 3000- 5000 words including bibliography. Please note: Submissions must follow Harvard system of referencing.
Authors of selected papers will be invited to present at ICON9 in July of 2016. Presentations will be allowed 20 minutes, and papers will be published in digital form on the AI-AP-DART website.
DEADLINES:
Receipt of the Abstracts: July 15, 2015

Notification of Provisional Acceptance: Sept.20, 2015

Receipt of Full Paper: Nov 15, 2015

Notification of Final Acceptance: January 24, 2015

Presentation Date: July 6-7, 2016
Download the full Call For Papers Document here
2014
The 2014 Call for Papers listed below are:
Call for academic submissions: The Itinerant Illustrator Deadline for abstracts: Friday 4th July 2014
Call for Papers Literary illustration between texts and paintings 15th September 2014
The 3rd International Conference for Design Education Researchers: Learn X Design
GLAD: Group for Learning in Art and Design
Fourth International Visual Methods Conference Call for Contributions

Call for Contributions
Fourth International Visual Methods Conference
16th–18th September 2015
Brighton
Deadline for panels and 'other' contributions: 16th January 2015
Deadline for papers: 30th January 2015
Keynote speakers: Professor Gillian Rose, Professor of Cultural Geography, Open University and Joe Lambert, Executive Director of the Center for Digital Storytelling.
Background
This event will deepen and extend the exchange of ideas and approaches across disciplines and between visual research and visual practices. The conference will include a combination of keynote presentations, panels and papers, alongside workshops, screenings and exhibitions. Additional info.
Proposals are welcomed exploring any of these areas:
· Visual Methods and Research Design
· Approaches to analyzing visual data
· Data visualisation
· Researcher created visual data
· Arts based visual research methods
· Visual ethics
· Visual culture and visual methods
· Participatory visual methods
The core of the programme is built on three open strands designed to capture strong proposals:
Narrative and Visual Methods
Exploring Digital Visual Methodologies
Critical Perspectives on Visual Methodologies
Scholars and other visual practitioners are invited to submit proposals for panels, papers or other types of contributions in one of the conference themes.
The deadline for panel submissions is 16th January 2015. These should be sent by email to [email protected] Submissions should be double-spaced and in Verdana Font no less than size 12.
Panel organizers will be notified of the decision regarding their proposals by 28th February 2015. We expect to commission five Panels under each theme with the balance being kept open for open submissions
Instructions for Papers
Abstracts for proposed papers should address one of the conference themes in 250 words and be submitted as a MS Word file or RTF Format (not in the body of an email). Submissions should be double-spaced and in Verdana Font no less than size 12.
· A title of no more than 15 words which provides useful pointers on the key topics to be discussed
· Five key words
· A short biography of a maximum 35 words
Where a significant portion of the presentation involves images, choose three (3) representative stills or a video section encoded to no more than 4Mb in total and attach this to your email.
All submitted material should list your name, institution and/or organisational affiliation (if any); your paper or session title, and any media support required. In both your file name and email subject line, please include: [IVM4; Paper or Session and Family Name]
Please send to [email protected] by 30th January 2015. All proposals will be reviewed by the Programming Committee and responded to by 20th February 2015.
Registration
Panel organizers and presenters of selected papers must register for the conference by 31st May 2015.
If you would like to be kept informed of when registration is open, please email: [email protected]
GLAD: Group for Learning in Art and Design
Call for Proposals to offer papers and or Workshop at the GLAD Conference 2015
Date: Friday 27th February 2015
Venue: Sheffield Institute of Arts, Sheffield Hallam University
One-Day Event starting at 10.30 and finishing at 4.30pm
GLAD: Controversy and Conformity – 25 years of transforming the academy
The Group for Learning in Art and Design was formed twenty five years ago in response to changes in higher education which were to impact on how art and design was taught in higher and further education and specialist art schools. Early changes, such as modularisation, the massification of higher education, widening participation and the development of postgraduate courses brought both challenges and opportunities, which were the focus of much debate. The responses from the Art and Design sector were often viewed as controversial, 'different' and indicative of a discipline reluctant to conform.
More recently the introduction of student fees and then higher fees, competition for students, internationalisation, employability, REF, NSS and a focus on the student experience continues to shape how we teach art and design, where we teach and how students learn. These are the key drivers for all disciplines. So, have we transformed the academy or has the academy transformed art and design?
This conference offers the opportunity for academic staff, technical staff and research students to consider the purpose and value of art and design pedagogy in an increasingly complex, fast-paced environment and the space to reflect and learn from past experiences, in order to develop strategies, practices and techniques for the future.
Visit http://www.gladhe.org.uk/conferences/
http://www.shu.ac.uk/sia/glad2015
Call for Paper abstracts and Workshop/Symposium proposals
The 3rd International Conference for Design Education Researchers: Learn X Design

Chicago, IL USA | 28 June  – 1 July 2015
The DESIGN-ED Coalition, in partnership with Design Research Society and Cumulus, is excited to announce the Call for Paper abstracts and Workshop/Symposium proposals for the 3rd International Conference for Design Education Researchers: Learn X Design. http://learnxdesign2015.com/
Deadline for substitution of abstracts and workshop/Symposium proposals is on 22 October 2014 via this link https://www.conftool.pro/learnxdesign2015/
Click here to download submission information (PDF) http://learnxdesign2015.com/LearnxDesign2015_callforpapers.pdf

Learn x Design is a conference for the wide range of topics from theoretical research to practical application. On a career level, the study of design is to create a well-crafted, aesthetic fit of form to function, materials, and tools. Each designed item contains a narrative about the culture from which it evolved, about the person who produced it, and the values and practices of both. Research develops theories and principles about learning, tests and validates them for implementation in classroom, policy and practice.

This international conference is a springboard for sharing ideas and concepts about contemporary design education research and the teaching of design. Contributors are invited to submit research that deals with different facets of approaches to design education research, pedagogy and teaching. All papers will be double-blind peer-reviewed. This conference is open to research and teaching methodology in any aspect and discipline of design education.
DESIGN-ED are in partnership with these Journals:
• Design and Technology Education
• TRACEY
• FORMakademisk
• Curriculum and Instruction
• Journal of Education through the Arts
• Art, Design and Communication in Higher Education
The journals will publish special issues with articles selected from papers and keynote lectures presented at the Conference that relate to their theme track as listed below:
• Design Thinking and Engineering
• Local and Global Connections to Design Education
• Design Inspired by Nature
• Systems Thinking
• DIME: Design, Innovation, Media, Economics
• Academic and Vocational Curriculum Development
• Ecological Urbanism
• Visual Literacies and Design Thinking
• Visualization in Design Education
• Design Thinking, Management and Design Education
• Design Education to Improve Life and the World
• Design as an Integrative Tool for Education
More information about the conference and registration will be available in the coming months at www.learnxdesign2015.com
As a part of the call for paper abstracts DESIGN-ED are giving away 2 sets of 4 volume proceedings from the 2nd International Conference for Design Education Researchers published by the ABM-media (ISBN 978-82-93298-00-7) http://www.hioa.no/eng/About-HiOA/Faculty-of-Technology-Art-and-Design/DRS-CUMULUS-Oslo-2013/DRS-CUMULUS-Oslo-2013-Proceedings-Ordering
If you would like to receive one of the sets please email to Erik Bohemia [email protected] with the following details:
– your name – email – institution – postal address – briefly outline how the 4 volume set of the 2nd International Conference for Design Education Researchers proceedings will help you with your research
Literary illustration between texts and paintings
Call for Papers
Conference 13th and 14th February 2015
Université de Haute-Alsace (Mulhouse) Tomi Ungerer Museum/International Center for Illustration (Strasbourg)
Special guest speakers:
Stéphane HEUET, author of the graphic novel adaptation of Proust's Remembrance of Things Past (first published by éditions Delcourt, translated into 15 languages)
and
Stephen CROWE, illustrator of Joyce (Finnegans Wake, 'Wake in Progress' project, and Dubliners, de Selby Press)
Many literary illustrators find their inspiration in paintings as much as in the texts themselves: Arthur Hopkins represents Hardy's heroine Eustacia Vye in a pre-Raphaelite style, some of J. R. R. Tolkien's landscapes in The Hobbit look like Japanese etchings, and in his adaptation of Proust's Remembrance of Things Past, Stéphane Heuet bases Elstir's paintings on the Impressionists. Thus literary illustration creates a relationship between texts, images and the many other images with which they interact. Rather than the traditional text/image dichotomy, the focus here is on text/illustration/painting, a triptych which can be analysed from many perspectives, among which hermeneutic, semiotic, narrative or aesthetic.
The artists' social status will also be examined, including the reasons for becoming a literary illustrator rather than a painter, as well as those for pursuing both activities in parallel. The importance of art institutions (art schools, museums, collectors, publishers) in the relationship between painting and literary illustration also deserves a mention, as well as that of artists' training, in order for instance to ascertain the role of painting in the genesis of illustrations. Is the hypothesis that the two activities are unequal always verified (for example, in the work of painters-illustrators like John Martin, Dante Gabriel Rossetti, John Everett Millais or Henry Selous, painting seems to inspire illustration,  rather than the opposite)?
Possible areas for research and reflection include:
- How do pictorial references in illustrations modify our reception of texts? For example, what happens when Bosch, Goya or Redon meet Poe, Nerval and Dostoevsky through Alfred Kubin's drawings?
- Does the pictorial style of an illustration echo that of the text, or is there a dissonance between them? We may look at aesthetic and chronological discrepancies, such as John Martin's illustrations for Milton's Paradise Lost in the romantic style of the 1830s
- How do illustrations and paintings relate to pictorial references in the text (Liliane Louvel's theories in Iconotext and Le Tiers Pictural may be used as a framework here)?
- Can the impact of classical training on illustrators be measured (Henry Selous at the Royal Academy, George du Maurier in the Paris atelier of Charles Gleyre, or Günter Grass at the Düsseldorf and Berlin Academies)?
- What is the status of pictorial works inspired by literature, such as those taken from Shakespeare by Zoffany, Fuseli, Delacroix and others, Joseph Cornell's surrealist collage Sorrows of Young Werther (1966) from Goethe, or the many illustrations of The Decameron, including Botticelli's four famous paintings?
We are open to all theoretical and methodological approaches. English literature will be given priority, but as part of ILLE's European perspective (www.ille.uha.fr), papers in other fields and areas of research will be considered. Papers may deal with all literary and artistic periods. French and English will be the working languages.
Participants will be required to give a summary of their papers in both languages. There will be a publication. According to the objectives set by Illustr4tio (http://illustrationetwork.wordpress.com), contributions from academics, as well as writers, artists, publishers and other book professionals are welcome.
Please send 500-word proposals with short bio-bibliographies by 15th September 2014 to
Maxime Leroy, Université de Haute-Alsace, [email protected]
Sophie Aymes, Université de Bourgogne, [email protected]
Nathalie Collé-Bak, Université de Lorraine, [email protected]
Brigitte Friant-Kessler, Université de Valenciennes, [email protected]
The Itinerant Illustrator
Journal of Illustration/ Illustration Research/India
Srishti School of Art, Design and Technology, Bangalore, India
18th and 19th December 2014
Illustration by Anna Bhushan                                   
Deadline for abstracts: Friday 4th July
The 5th International Illustration Research event joins forces with the peer reviewed Journal of Illustration and is hosted by Srishti School of Art, Design and Technology in Bangalore. The symposium this year will focus on the praxis of illustration in an expanded field, including histories of local/regional illustrative practices and the traversing of diverse media platforms.
Through talks, workshops, performances and exhibited works, we will consider the illustrator in terms of the 'habitual travelling' that he or she undertakes. The itinerant nature of the illustrator is evident in the praxis of illustration itself- the oscillation of thought between word and image, page and screen, hand and eye, dream and reality.
Occupying many roles and moving dynamically between them, the itinerant illustrator is an interpreter, a translator, an illuminator, as well as a storyteller, enquirer, performer and a pictorial juggler of ideas. The nomadic nature of the illustrator is to wander between disciplines, search for new contexts and to make images not on one, but several different platforms within an eternal evolution of technologies.
The multi-sited nature of illustration, along with illustrators' journeys between several positions and places, also involves images that travel. We would like to investigate the fluidity of visual codes and languages, the translations, adaptations and hybrid practices that respond to the movement of cultures within the global village. How are images made and read within shifting regional and trans national contexts? How can we use illustration itself as a methodology to shed light on the praxis of illustration in these multiple contexts?
300 word proposals for 20 minute academic papers and practice based presentations are invited including (but not limited to) the following topics:
·       Illustration within local and hybrid cultures
·       Illustrated Narratives on transnational platforms
·       Image and space – murals, installations and other site-specific images
·       The illustration as palimpsest: reinterpretations of received bodies of knowledge.
·       The itinerant storyteller – the book, the scroll, the kaavad.
·       Illustration's relationship to technology
·       Memory and place in illustration practice
·       Illustration as performance and dialogue
·       Local/Regional approaches to illustration practice
·       Post colonialism and illustration
·       The illustrator as tourist within global image culture
Please email abstracts along with your name, affiliation and email address to
Sandeep Chandra Ashwath, [email protected], DesdemonaMcCannon  [email protected]
and Anna Bhushan [email protected]
Selected papers and presentations will be considered for publication in forthcoming issues of the peer reviewed Journal of Illustration, published by Intellect books.
Deadline for abstracts: Friday 4th July