Varoom 31 – the Visionaries issue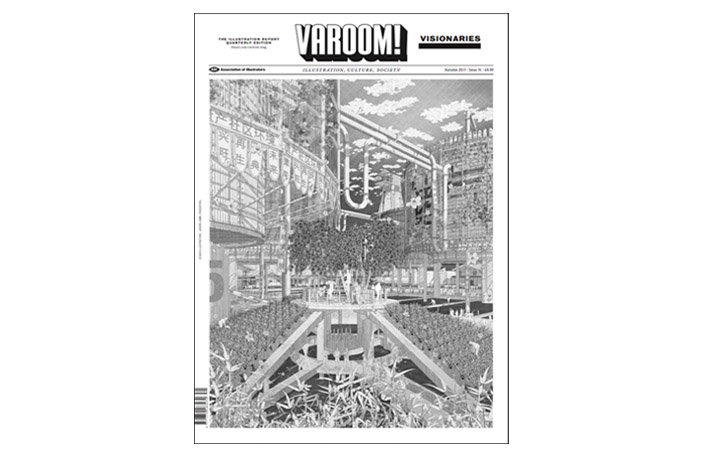 Varoom 31 – The Visionaries Issue
Illustration, Culture, Society Autumn 2015
Cover illustration by Jason Lamb
Purchase here
This issue is about celebrating the visionary work of illustrators, the image-making that shapes our relationship with the world, that inspires us to a more creative engagement with the world. Though we often think of the visionary as something, or someone a little bit 'out there', just by being given the status of visionary enables unorthodox ideas to be put on the table.
In this issue Marion Deuchars speaks of the line that connects her with Quentin Blake, Ardizzone, Lear and Cruikshank all the way back to the use of text and images in the Illuminated Manuscripts. Also featuring image-futurism in Architecture, the Epiphany as a powerfully affective journey of learning (with Marion Deuchars, David Hughes, Oliver Jeffers and Olimpia Zagnoli), how Illustrators are rising to the challenge to visualise and explore science in astonishingly imaginative ways, graphic novels and children's books.
This issue of Varoom is a celebration of creative diversity whether you're channeling a 5th Century illuminator or making GIFs.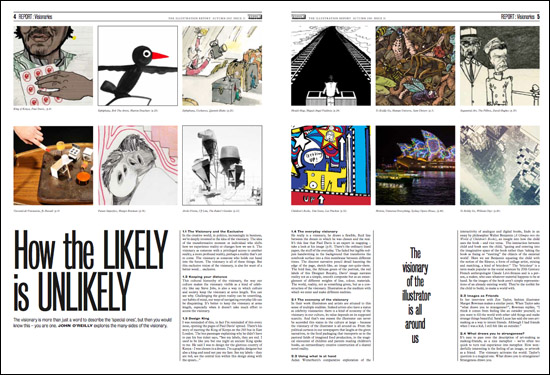 Featured in this issue:
Archi-Vision
There's a long tradition of image-futurism in Architecture, and in recent years the genre of speculative architecture has re-imagined conventional arrangements of buildings and politics, the real and the imaginary, fact and fiction. On the following pages Emma Sims, Jason Lamb and CJ Lim reflect on their visionary spaces.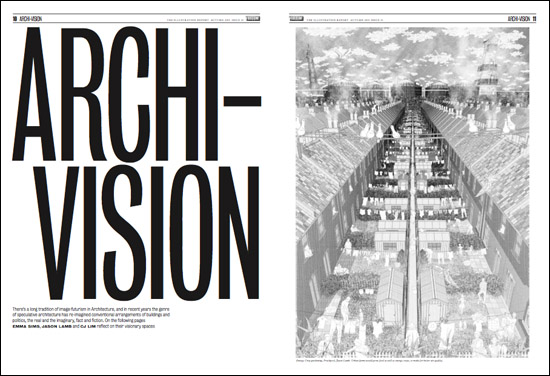 Epiphany
There's the Christian notion of epiphany as divine revelation, the secular epiphany as rational insight, and then there's epiphany as moment of learning and transformation. Olimpia Zagnoli, one of the illustrators we asked to locate an epiphany in an other image-maker's work, describes her epiphany as making her "blood become sparkling". The epiphany is a powerfully affective journey of learning. Explore the epiphanies of Marion Deuchars, David Hughes, Oliver Jeffers and Olimpia Zagnoli.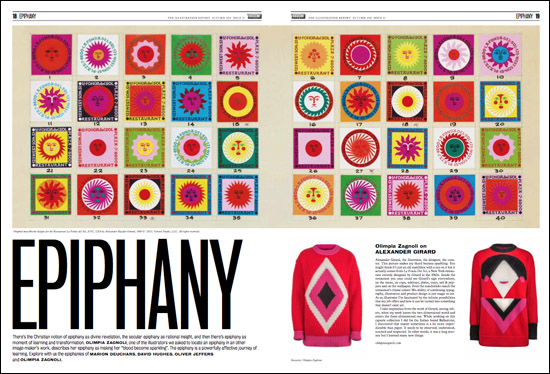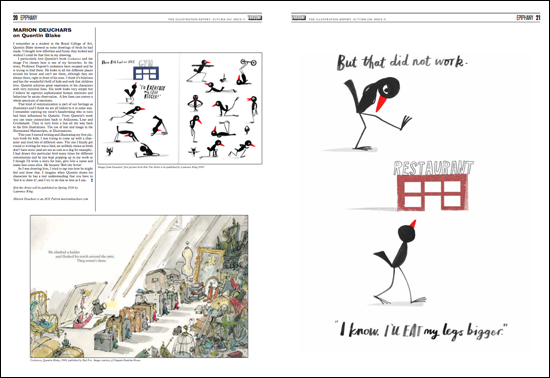 Mould Map: Narration, Sensation, Anticipation
For its fourth issue MOULD MAP delivers design fiction, counter-culture history, and speculative scenarios in a psychedelic, eye-frying explosion of ideas. Anticipating the future never felt quite like this, John O'Reilly talks with co-editor Hugh Frost.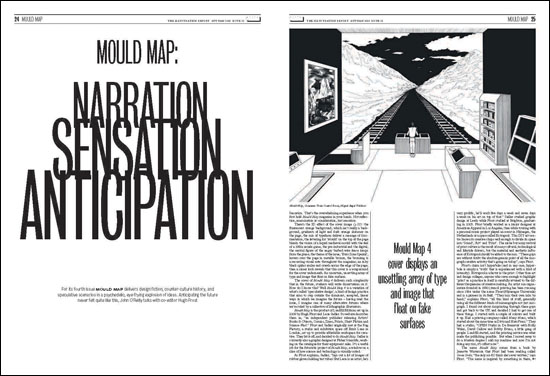 To Boldly Go
Over the last decade stories on science and technology are part of the fabric of everyday life. Art Directors, Illustrators and Scientists themselves are rising to the challenge to visualize and explore science in astonishingly imaginative ways, in magazines, illustrated books, installations and games. We talk with three leading figures: New Scientist Art Editor Craig Mackie; Neuroscientist turned illustrator Matteo Farinella and physicist turned artist and digital games designer William Chyr.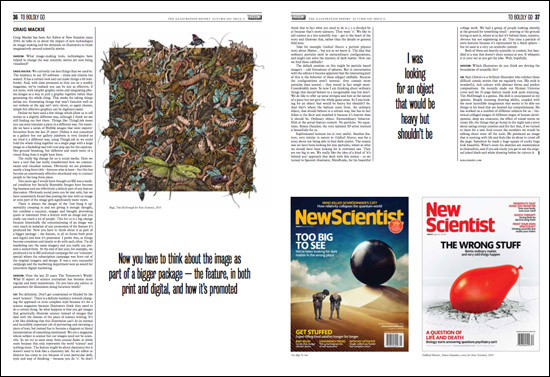 Future Imperfect
Zoe Taylor explores the highly original, fantastical work of fashion illustrator Margot Bowman whose eclectic use of media, futuristic narratives and relationships with brands is mapping a path for the commercial image-maker.
Margot Bowman epitomises a visionary illustrator. In the true sense of the word 'visionary', her work often imagines how we will live in the future and practically explores issues such as sustainability. Then there's her passion for newness, her progressive attitude towards commercial work and the ease with which she works across both traditional and digital media.
VaroomLab Visionaries
From the children's book as information environment, to the idea of expanded illustration to Stuckness and the hostess trolley, the VaroomLab 2015 conference sought, fast sharply constructed ideas for its Pecha Kucha presentations. Aidan Winterburn, Alice Moloney and Jo Hassall re-imagine some familiar visual and professional forms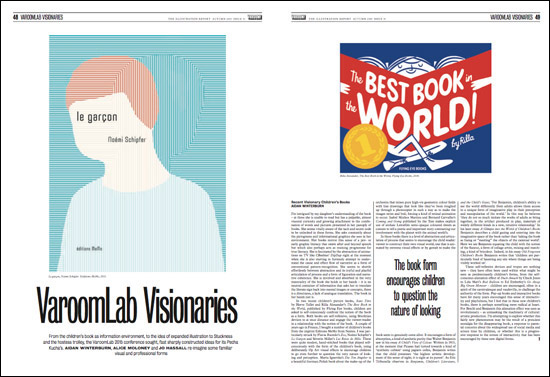 Also in this issue, Shane Walter selects a recent stand out project from Universal Everything: Light at the Opera was the audio-visual takeover on Sydney's iconic landmark Opera House sails. And highlighting Sequential Art, Martin Colyer choses David Hughes' graphic novel,The Pillbox: "It presents a chilly version of an English seaside holiday, wrapped around a depraved murder mystery from 1945, involving American troops stationed nearby."
As always, Marian Bantjes' Varoom centerspread is a visual feast. For Visionaries, glass eyes look around through dazzling angles of holographic foil. Paul Davis witnesses 'The King of Kenya' in a curious yet uplifting encounter on the 243 bus, and in I Wish I'd done This, John O'Reilly is transfixed by Graham Fink's images drawn with his eyes via eye-tracking technology.
Varoom 31 is available from good book stores and the AOI Shop. 64 pages of great images and insightful comment. Find the Vision.