Varoom 28 – Fashion
Varoom 28 – The Fashion Issue
Illustration, Culture, Society Winter 2015
Cover illustration by Quentin Jones
Purchase here
When is that perfect moment of Fashion, when you could be perfectly, 'in Fashion'? That's not a social anxiety, it's just the kind offbeat musing that Fashion projects often provoke. 
This issue features many extravagantly offbeat visual ideas, from Zoë Taylor's feature on Fashion and Film which includes Fashion images created from a games engine, to Teal Triggs' story of the uncommonly fabulous Flair magazine which ran for a single year, to our exclusive extract from Lucienne Roberts and Rebecca Wright's book on nun's habits. How could we talk about fashion, without mentioning Prada? Varoom 28 takes a look at how fashion and illustration came together at Prada's S/S 2014 show , and Leanne Shapton, editor of Women In Clothes, explores our relationship with clothes.
New York illustrator, Richard Haines, brings his approachable feeling for fashion to street sketches of people on their way through the city, Bridget Strevens-Marzo discusses characters from our childhood and how image making fashions change within children's picture books and Varoom enters the beautifully surreal world of Herself magazine created by Thorbjørn Ankerstjerne and his alter ego 'Lula'.
Featured in this issue: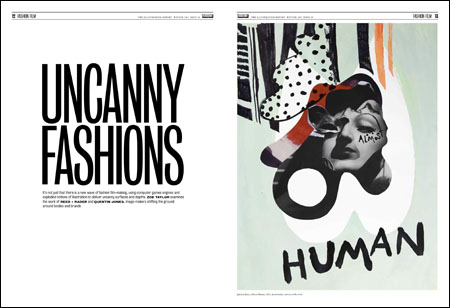 Uncanny Fashions
It's not just that there is a new wave of fashion film-making, using computer games engines and exploded notions of illustration to deliver uncanny surfaces and depths. Zoe Taylor examines the work of Reed + Rader and Quentin Jones, image-makers shifting the ground around bodies and brands.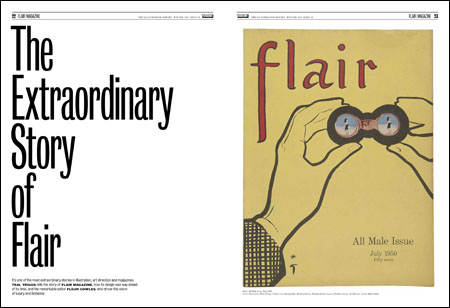 The Extraordinary Story of Flair
It's one of the most extraordinary stories in illustration, art direction and magazines. Teal Triggs tells the story of Flair magazine, how its design was way ahead of its time, and the remarkable editor Fleur Cowles who drove this vision of luxury and Bohemia.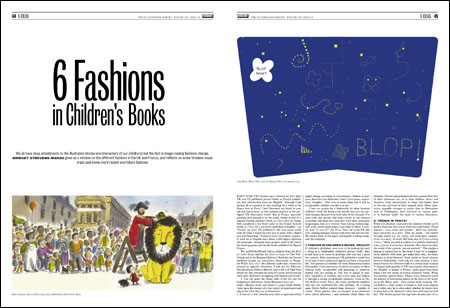 Six Fashion's In Children's Books
Bridget Strevens-Marzo gives us a window on the different fashions in the UK and France, and reflects on some timeless visual traits and some more recent and future fashions in children's books.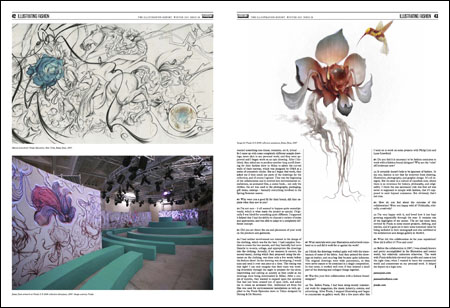 Illustrating Prada
Field explores how the Prada brand uses illustration and gets the thoughts of French illustrator Jeanne Detallante about the S/S 2014 show and from James Jean about his murals for Prada's Epicenter in New York and Los Angeles and how the work spun out through the Prada brand.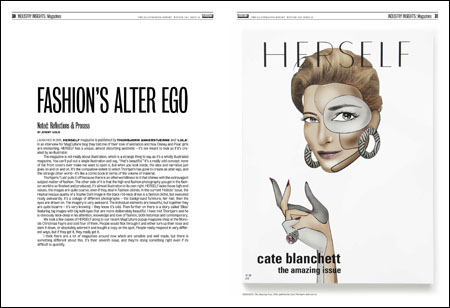 Fashion's Alter Ego
Launched in 2011, Herself magazine is published by Thorbjørn Ankerstjerne and 'Lula'. Herself has a unique, almost disturbing aesthetic – it's not meant to look as if it's created by an illustrator.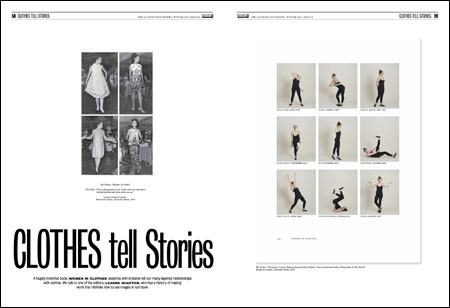 Clothes Tell Stories
A hugely inventive book, Women In Clothes explores with creative wit our many-layered relationships with clothes. We talk to one of the editors, Leanne Shapton, who has a history of making work that rethinks how to use images in narrative.
Also in Varoom 28, Paul Davis takes his cutting scissors through fashion trends, rip-offs and the need for new clichés. Each issue, Marian Bantjes delivers a uniquely crafted double-page image, for issue 28 Bantjes produces an illusive response to fashion. Renowned fashion illustrator Jason Brooks selects a fashion illustration created by Antonio Lopez for British Vogue in 1970.
Varoom 28 is available from good book stores and the AOI Shop. 64 pages of great images and insightful comment.