Varoom 26 – Style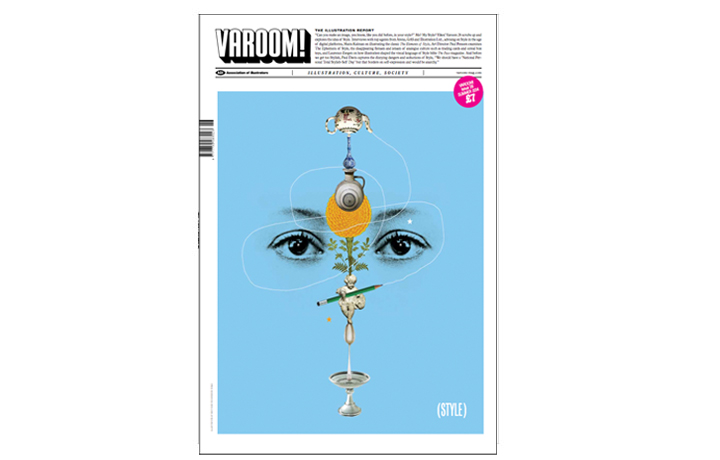 Varoom 26 – The Style Issue
Illustration, Culture, Society Summer 2014
Cover illustration by Matthew Richardson
Purchase here
The Style issue endeavors to answer the unanswered questions revolving around 'Style', delving deep into its depths and challenging the definition of style, from typography to fashion, the preconceived ideas to the actualities, the creators to the observers.
Varoom gets under the skin of 'Style', from Creative Review Art Director, Paul Pensom's examination of The Ephemera of Style – the disappearing flotsam and jetsam of analogue culture such as trading cards and cereal box toys, to the work of French street artist Horfee who is described as an artist who, "takes the expected norms of graffiti style and metaphorically proceeds to shred them through a mechanical mince-grinder to produce something more organic and unexpected."
Featured in this issue:
The Culture of Style – The Face
It was youth culture's original 'style bible', documenting and shaping the visual and social culture of the 1980s and 1990s. Lawrence Zeegen takes us through the history of the illustrators, designers and art directors who made The Face magazine essential reading.
 Elements of Style
Illustrator Maira Kalman, a New York-based illustrator whose observant eye treats the viewer to a world of witty and beautiful paintings, gave a classic writers' styleguide a whole new angle. Sharon Bowes asks Kalman about her unique take on The Elements of Style.
The Craft of Style
Children's book illustrators, Joelle Jolivet and Mike Lemanski, talk about the length and intensity of their visual research and on their personal voice and expression and love for their subject and craft. Both illustrators have achieved this balance between the objective and the personal, and have brought to life two impressive publications on costumes and transport.
The Analogue of Style
Media Molecule had a major hit with Little Big Planet, a game that stood out amongst other things for it's striking visual style. Under lead creator Rex Crowle, the studio have followed this up with Tearaway, an adventure through a vibrant papery world where all objects act like paper, look like paper and usually behave like paper.
The Commerce of Style
As fashions in advertising and marketing communications change faster than ever, we ask three agencies about how clients view 'Style', and explore how attitudes to 'Style' have changed, Tamlyn Francis and Caroline Thomson from Arena, Gina Cross from GAS, and Vicky Pearce from Illustration Ltd give us an overview of the current  illustrtaion marketplace.
The Contradictions of Style
Drawing upon Susan Sontag's famous essay On Style, Adrian Holme examines some of the contradictions inherent in style, taking us through examples from the Gothic Cathedral to the work of contemporary illustrator Matthew Richardson. Why should we run away from style, he asks?
Each issue, Marian Bantjes delivers a uniquely crafted double-page image, a beautifully rendered material-thought. For our Style issue, Bantjes creates a gridded montage with stylish black and white photography, displaying an atmospheric contrast between light and shadow. Our other regular contributor, Paul Davis, champions 'National Personal Total Stylish-Self Day'  as a recipe for style anarchy.
Varoom 26 is available from good book stores and the AOI Shop. 64 pages of great images and insightful comment. Get Stylish.