Varoom 25 Empathy
Varoom 25 – The Empathy Issue
Illustration, Culture, Society Spring 2014
Cover illustration by John Vernon Lord
Purchase here
"The illustrations not only mirror, but also extend and develop the ideas in the text and provide a different viewpoint," says Sarah Browne, Editor of Therapy Today, discussing the value of illustration in her magazine.
It's illustrator's empathy for the text – not repeating it, not simply echoing them it, but discovering something different. Sociologist Richard Sennett points out we sometimes confuse sympathy with empathy – it's not a Clintonesque 'I feel your pain." Empathy is not an embrace it's an 'encounter'. Empathy is a hot-button idea, the key it seems to business, design, even evolution. Issue 25 of Varoom explores the rich ways in which illustrators extend the idea of empathy itself. And as ever, Paul Davis takes the idea into uncharted territories, "If this New Empathy fails, will 2014 be re-membered for The Empathy Riots?"
Featured in this Issue:
The Match-Makers
Three illustration agents on the illustrator-client relationship. Jon Cockley from Handsome Frank, Jeremy Wortsman from The Jacky Winter Group and Stephanie Alexander-Jinks, from The Artworks.  Sitting in the hotspot between client and the illustrator, the good agent has a unique skill set – understanding, listening, recognising what the client is really looking for. In other words… empathy.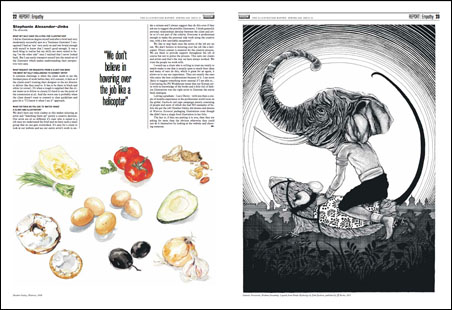 The Atrocity Exhibition
Adrian Holme explores the extraordinary set of images created by Phoebe Gloeckner for the cult 1990 Re/Search edition of JG Ballard's deeply controversial The Atrocity Exhibition.
Material Matters  
John Vernon Lord, Roderick Mills, Sheena Calvert, and Tim Milne explore pen nibs, a publication made from 10 objects and a book bound in hand-forged iron, exploring different aspects of materiality.
Illustration and Therapy Today: Sarah Browne
Since its redesign, Therapy Today has highlighted illustration to express complex therapeutic issues and situations. Editor Sarah Browne explores in detail the thinking between 
editor and illustrator
The Illustrated Future of News: Jane Stanton
With the launch of two graphic news magazines, Symbolia and La Revue Dessinée , Jane Stanton explores how illustration can help us understand news in a world of blanket media coverage.
In Children's Books, Chris Haughton's Shh! We Have A Plan and Michael Roher's illustrations for My New Granny on a grand-parent who develops dementia are chosen by Bridget Marzo-Strevens.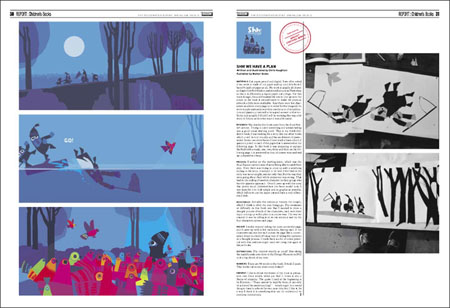 In Reportage, Derek Brazell selects Veronica Lawlor's images documenting a photographic session of her younger sister Patty,who has metastatic breast cancer. The images have motion in the lines, but a calmness emanating from the subject.
For Cartoons, Martin Colyer chooses Tom Humberstone, creator of The New Statesman's weekly comic, who discusses the nature of the illustrators engagement with a subject, "I just don't know if 'earnestness' should be such a dirty word." And in Moving Image, Shane RJ Walter looks at Evan Boehm's recent Looking At A Horse project, which responds to it's surrounding through tracking.
Each issue, Marian Bantjes delivers a uniquely crafted double-page image, a beautifully rendered material-thought. For our Empathy issue, Bantjes creates an unsettling, moving needlepoint work made of My Little Pony 'hair' – Lost Child. Our other regular contributor, Paul Davis, suggests The New Empathy could be really great – the work, the clients, the collaboration. Or, it could all go a bit Bono.
Varoom 25 is available from good book stores and the AOI shop. 64 pages of great images and insightful comment. Empathsise.