Varoom 35: Innovator Insight with Rob Davis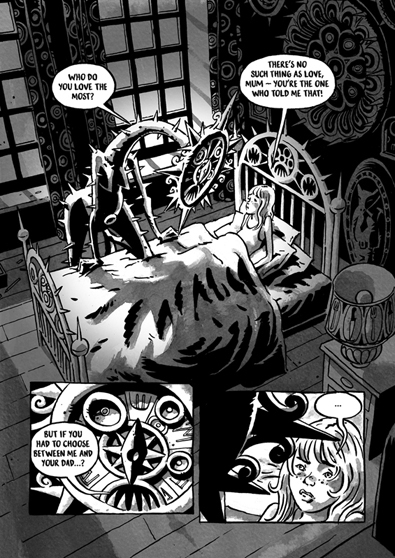 In these extracts from the Varoom 35: Storytelling article, Sarah McIntyre talks to Rob Davis about his creative process involving his latest graphic novel 'The Can Opener's Daughter', the full article of which can be purchased in the latest Varoom Magazine here. 
Sarah McIntyre:
The Can Opener's Daughter is spiky, dark and completely bizarre, yet somehow Rob Davis's storytelling skills pull me through to the end and don't leave me dangling in confusion on some lonely tangle of barbed wire. We follow the story of Vera Pike, a girl with an awful dictatorial drunken mother – who happens to be a weather clock – and a scared dad who hides under her bad, and who happens to be a can opener. 
Davis subverts everything we know about parentage (children build their own parents), mortality (pupils at suicide school calculate their death days), even the weather (which rains knives). With Vera Pike, we gasp in awe and horror as, with her, we explore a hellish Cubist reality that feels all the more horrible for its moments of familiarity.
Rob Davis: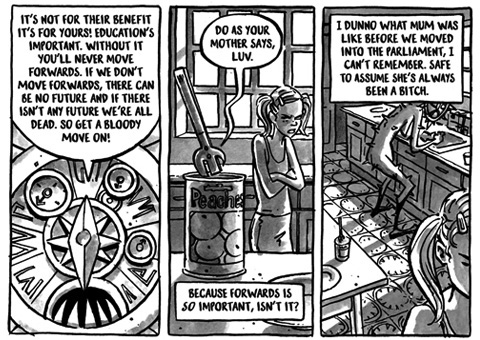 Brief
This is a follow up to The Motherless Oven (2014), it's the second book in that trilogy. Story wise it's about creating a world unlike any you've read before and yet still keeping it familiar. Visually this meant grounding the absurd in the mundane, which is why I chose to do these books in stark black and white–like a gritty 1960s kitchen sink remake of the Wizard of Oz.
Research
This is a story about a girl's worldview and is built from a number of girls I've known who had monstrous mothers. In the last book I had my own memories to draw heavily upon, this time I found myself mixing how I imagined these girls' memories with a collage of half remember girls' boarding school imagery.
Storytelling
This book is haunted by the death of my own daughter, stillborn in February of 2016. The notion of imagining someone into being as the true form of love was written into the core of the narrative of The Can Opener's Daughter long before this happened, the other theme the book returns to again and again is a life defined by death. Sometimes people ask me why I use absurdism to tell a serious story, in truth it's the closest I get to making sense of it all.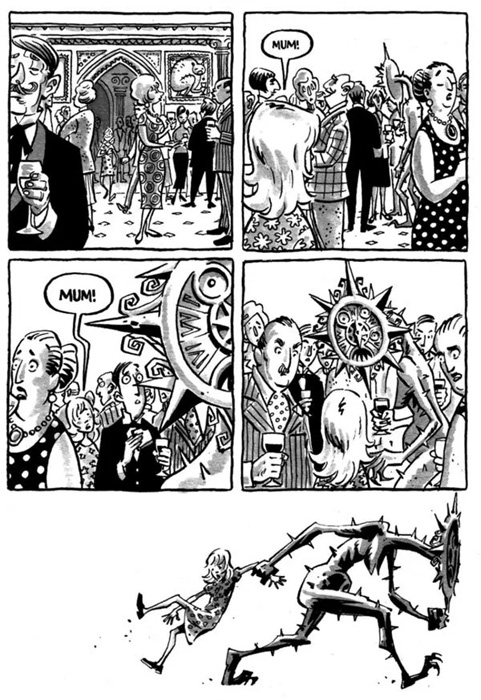 The full article can be purchased in the latest Varoom Magazine here