Varoom 34 – The Pet Effect I
The Pet Effect – Illustrators and Their Pets
Your cat stretches across your work desk, smudging paint or nudging the computer delete key as she yawns – prompting a smile, or is it a grimace? Artists have long featured their pets in their artwork, fixing a connection that is clearly a strong bond between animal and owner. But aside from being a subject, does this relationship with pets influence the artwork or working life itself?
Below are extracts from the Varoom 34 article 'The Pet Effect' and a Varoom online exclusive with illustrator Lize Meddings, who discusses her love for her grumpy Rankins Dragon 'Pancake'. 
Lize Meddings – Pancake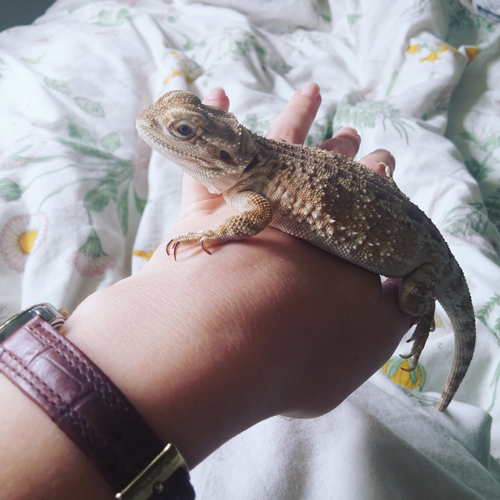 My Pancake is a permanent grump, she suffers badly from resting bitch face and it looks like everything severely pisses her off. When we first took her in we ignored that crossness and made sure to socialise with her lots, I was overjoyed that she would happily sit on me whilst I binge-watched netflix. Her name came from her original owner, as she's a Rankins Dragon which is like a little bearded dragon and they flatten out when it's hot to absorb lots of heat, so she looks like a pancake! We were going to re-name her but I love that she has a really cutesy name and she looks like she hates the world. As we got more used to her I decided to let her mosey around my desk on occasion, it was lovely. I work from home some days whilst my partner is at work so it's great having a real life desk companion, she also totally boosted my Periscope views if I was ever live-sketching!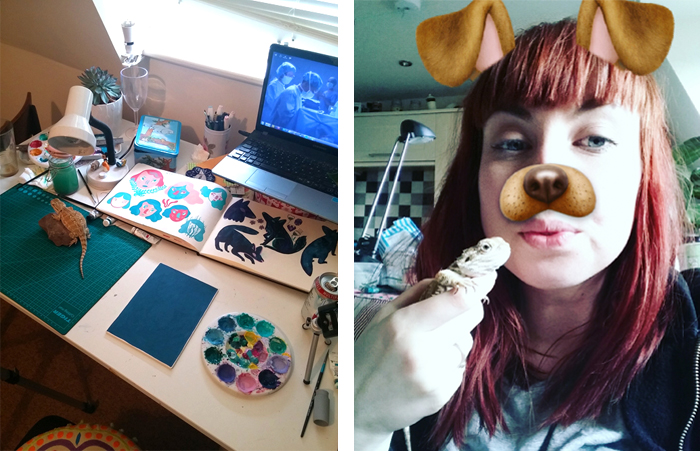 It ended up becoming a routine to GET me to sit at my desk and do work, because I'd want Pancake to be able to enjoy the desk-desert as well! There are a few hazards, sometimes she tries to eat my paint so I had to always put her out of reach, and she quickly discovered that my laptop was the warm spot so she'll walk all over the keyboard and interrupt what I'm trying to watch. She's basically a cute desk toy that walks around and gets confused by paper and is constantly pissed. I love her.
Below are extracts from the Varoom 34 article 'The Pet Effect': 
Hannah Jay Hollowed – Chihiro and Thorin
I have two rabbits called Thorin and Chihiro, and they've been brightening my everyday life since my second year of university. Their curious little faces never fail to make me smile, and in times of stress they remind me that everything really isn't so bad. When they're running around the room as I draw, I'm constantly aware of their sprightly hops and turns of their soft poofy bodies, and it brings some life to what might otherwise have turned out a static drawing.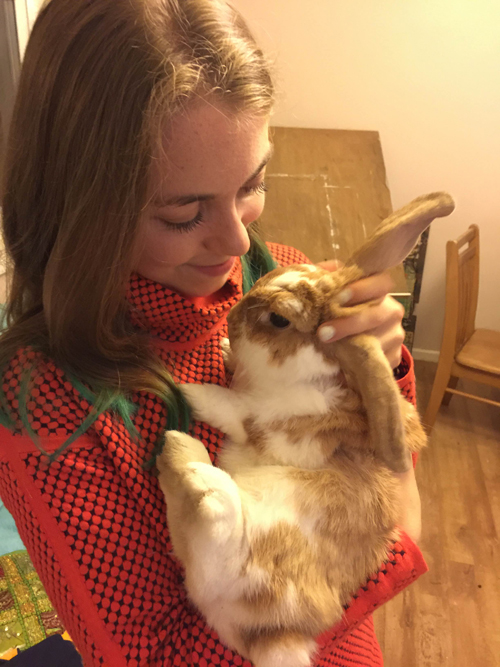 David Foldvari - Nellie and Ginge
These are my art goblins, Nellie and Ginge. Ginge's hobbies include moths and going to the toilet at 4.30am. Nellie's hobbies include staring at nothing, and ham. If at some point you happen to see substandard work from me, it's normally because I've had to ask them to take over. Overall I would not recommend either of them as particularly useful studio assistants.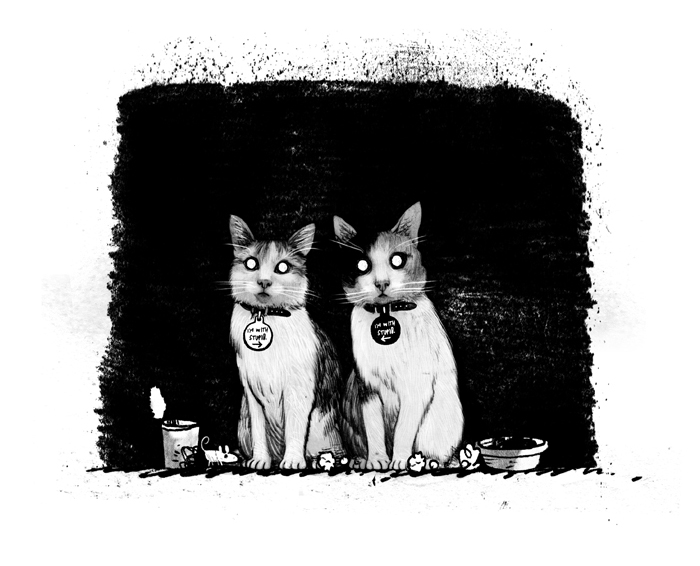 Part 2 of the Pet Effect is here