Varoom 30 – Play: Fashion
Zoe Taylor highlights the 'mesmerising' fashion illustrations of Jiiakuann in Varoom 30, and Jiiakuann talks about her work for the menswear spring/summer 2015 collections of J.W.Anderson, Raf Simons, Thom Browne and the autumn/winter 2014 collection of Sankuanz.
Below are extracts from The Dance, the full article, which can be seen in Varoom 30.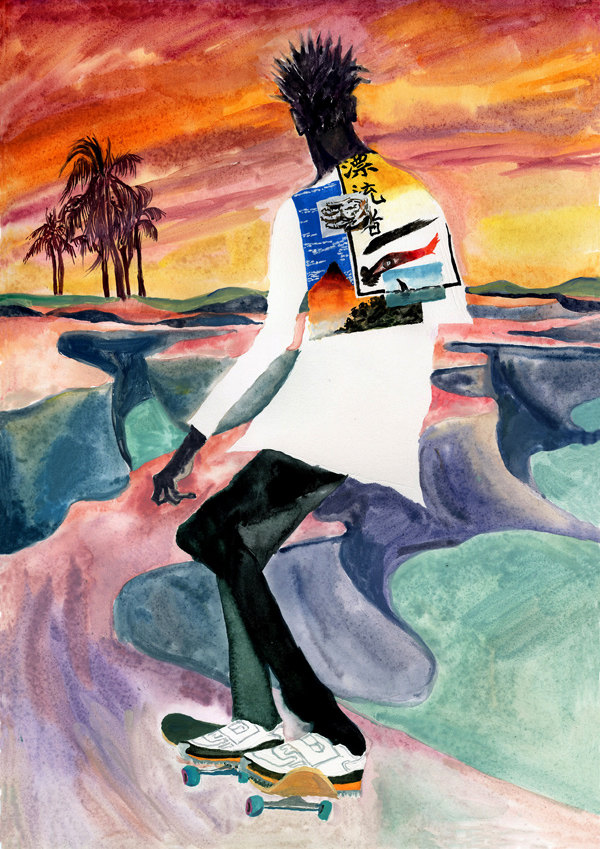 Raf Simons SS15
The exuberant fashion drawings of the Chinese illustrator Jiiakuann mesmerise with their rich colours, dynamic forms and fondness for pattern and detail. Rendering her work in vivid watercolour, she will happily paint her models deep green or magenta if it helps to electrify an image – her enjoyment in depicting their trainers with such attention to detail is evident.
Finding her work "a breath of fresh air", Richard Kilroy recently commissioned her to make exclusive new work for Decoy, his limited edition publication devoted solely to menswear fashion illustration.
Interpreting looks from the SS15 and AW14 collections, she selected designers who are celebrated for their progressive, eccentric or youth-subculture obsessed approaches. In every case, she invented her own models. Drawing the opening look from J.W.Anderson's SS15 collection, she poetically referenced the bucolic themes of the collection by showing the model dancing, eyes closed, among giant leaves and flowers.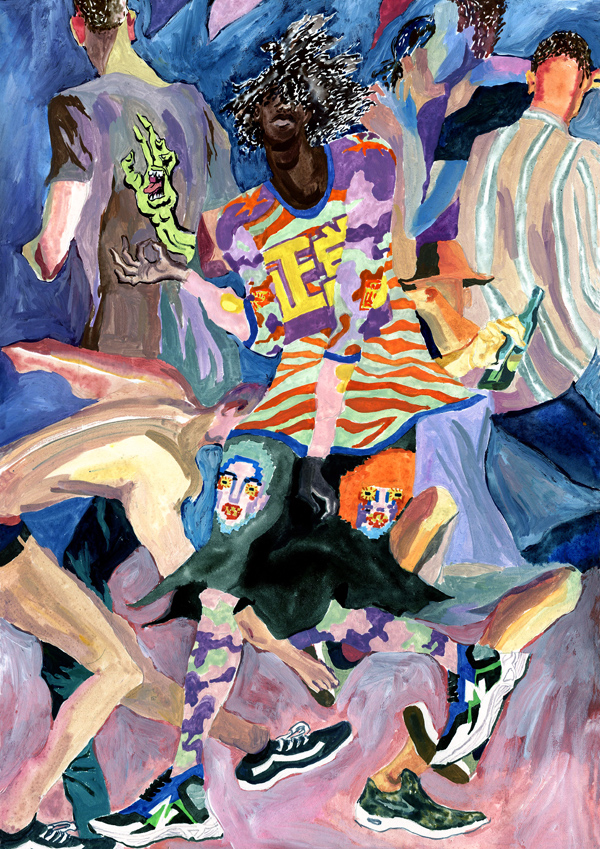 Sankuanz – FW14
Jiiakuann
Brief: I created four images interpreting established looks from the menswear spring/summer 2015 collection of J.W.Anderson, Raf Simons, Thom Browne and the autumn/winter 2014 collection of Sankuanz.
Materials: Watercolour on paper.
Research: I was listening to FKA Twigs intensively at that time. So naturally I looked into dance moves of performers, particularly Jaden Smith and Tyler the Creator. I always like to inject the images with aspects of youth culture. It's almost like a ritual that I browse through archives of pictures featuring skaters and people at dance parties that I've collected.
Process: After I've found the image references that I'm content with, I put them in one folder and look at them back and forth to read the visual correlation thoroughly before starting on the sketch. It will take me as long as it takes to sketch out the final ideation. At certain points, usually about an hour or two, I'd have the feeling that everything is in the right place with the right posture from which clothes are displayed at the proper angle. Finally I will move on to colour the line work traced from the previous sketch.
Decoy 5 is available now at richardkilroy.com
See more on Varoom 30