Varoom 30 – Play: Boards, Culture and Politics
"The Kolejka game's design recalls Poland's gritty era when sub-perfect goods were difficult to obtain"
The Strong – National Museum of Play in Rochester New York, is home to the world's most extensive collections of toys, dolls, board games, video games, other electronic games. It is also a major archive for some of the most important documentation on play and games including the Brian Sutton-Smith Library. Varoom 30 asked the museum's collections curator Nicolas Rickett's to dig into the archive and tell the cultural and social stories behind some of the more unusual board games in their collection.
Here Varoom shows an extract from the Play: Boards, Culture and Politics article on the Polish Kolejka game:
Kolejka
Poland's Institute for National Remembrance is an agency devoted to preserving and publishing the (bad) memories of life under both the Nazi and Communist regimes, the latter which ended in 1989. Among the Institute's methods for disseminating this information is the publication of educational board games. In 2011 it published game designer Karol Madaj's interpretation of life at the end of this era, called Kolejka, or literally "line up" or "queue." Details of game play revolve around standing in line to wait for the goods on a player's shopping list. Clever cards can delay – "closed for stocktaking," or hasten – "mother carrying small child," the wait.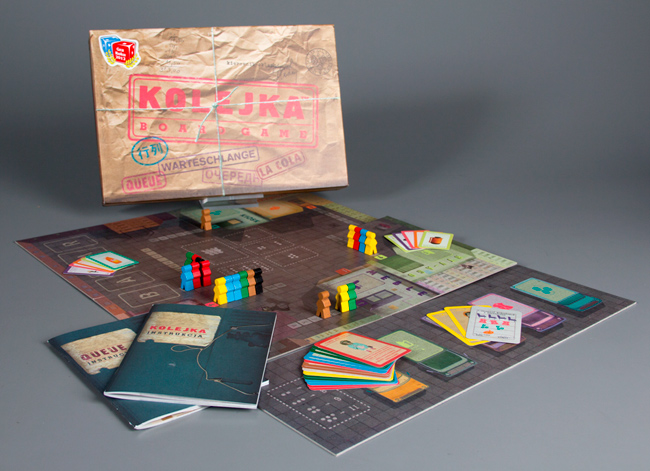 The game's design recalls Poland's gritty era when sub-perfect goods were difficult to obtain, and a speculator could spoil one's chance of obtaining life's necessities. Even the game box design resembles either a care package or poorly wrapped smuggled goods. The game found huge popularity, first among Poles who valued remembering the bad old days, and then throughout much of Europe.
Image courtesy of The Strong
Varoom 30 – the Play issue can be purchased here